Sever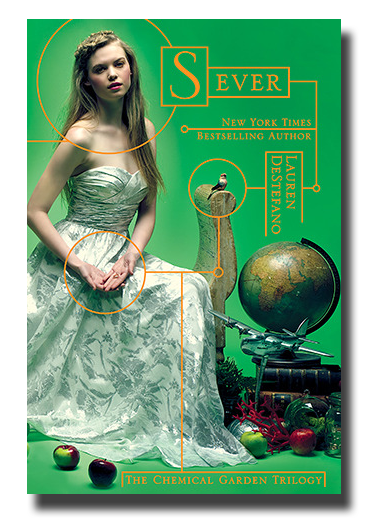 Release: February 12th 2013
Genre: Dystopia, Science Fiction, YA
#3 in the Chemical Garden trilogy
Plot:
Time is running out for Rhine in this conclusion to the New York Times bestselling Chemical Garden Trilogy.
With the clock ticking until the virus takes its toll, Rhine is desperate for answers. After enduring Vaughn's worst, Rhine finds an unlikely ally in his brother, an eccentric inventor named Reed. She takes refuge in his dilapidated house, though the people she left behind refuse to stay in the past. While Gabriel haunts Rhine's memories, Cecily is determined to be at Rhine's side, even if Linden's feelings are still caught between them.
Meanwhile, Rowan's growing involvement in an underground resistance compels Rhine to reach him before he does something that cannot be undone. But what she discovers along the way has alarming implications for her future—and about the past her parents never had the chance to explain.
In this breathtaking conclusion to Lauren DeStefano's Chemical Garden trilogy, everything Rhine knows to be true will be irrevocably shattered.
Review:
I have cried during this. Freaking cried, man. Multiple times. I really don't know why, but this book turned on my inner sprinkler.
The plot is really nice in this book. It's very idyllic at first, but gets more adventurous later. Things happened and they had a purpose and a sense of urgency behind them. They weren't for nothing, and everything had its order. There was a clear structure with a lot of plot twists along the way. This was an intense read, and though quite possibly not as intense as others, it still made me feel a lot of things.
Writing is something I haven't addressed in the reviews of the other two installments, so I'll mention it now: I still think DeStefano's writing is... hard to adjust to. It's a bit different, not as unique as, say, Tahereh Mafi's, but it's still something other. I never really adapted to it, so I was never able to enjoy it to the fullest but I made do. It still had a certain intriguing quality to it and it makes the book stand out. I certainly didn't dislike the writing style.
In this finale of the trilogy, I finally saw the message the author wanted to convey with her dystopian world. It didn't necessarily address a critical issue we're fighting right now in our own society, but something much more usual than that: Just that life is precious and should be appreciated and lived as best we can. And she brought the message across so wonderfully, in a very beautiful but bittersweet way, so it really hit home. It did for me at least.
The characters were simply amazing. Where Rhine was simply decent before, she now turned into a strong, capable heroine with decisions and sacrifices to make, which isn't always easy, and with heavy burdens to carry. I adored Rhine. I simply adored her. Cecily grows even more, especially at the end of the book, she is unrecognizable, you wouldn't be able to connect the girl we met in Wither to the woman she is at the end, defined by tragedy and loss. She has grown into a strong character as well. Linden gets even more characterization and by the end, I loved him almost as much as Gabriel. It was just mesmerizing to see Linden develop like that, every step he takes surrounded by doubt and uncertainty, and still he manages to carry on nonetheless. There was a certain bravery to him, and he isn't the weak, pathetic boy who comes to cry on Rhine's shoulder in the night anymore.
We also finally meet Rowan, Rhine's twin brother, and while I expected a bit more from him, he did surprise me. He was very kind and nice, not what you'd expect from what was discovered during Fever about him, but still. He was a little flat, admittedly, but I liked him anyways.
Gabriel is Gabriel, he doesn't change much, and his characterization doesn't go very far. That was one of the major issues I had, because he doesn't really get the character arc he deserves. Still, I'm very happy everything has turned out the way it has for him, he so earned it.
Now, the most surprising character though, was Vaughn. He is such an intriguing and unique villain, I just... what DeStefano did with him was absolutely amazing and brilliantly done. He's an intricate character, with many flaws, but ultimately a human father desperate to save his son. His roads were paved with good intentions, and I loved the revelation that involves him. Vaughn is probably one of the best villains I have encountered yet, he isn't like The Darkling from Shadow & Bone, who oozes charm and sexiness which gets him all the fangirl love, but Vaughn is rather someone who had all the right reasons but chose all the wrong methods, and... I don't know. At the end, I was sympathizing with him and I could understand him, and that's probably what amazed me so much about this antagonist. Great, great work, DeStefano.
All in all, I am more than satisfied with the end we got. While I still hoped for more news from Rhine and Gabriel's relationship, I guess I am glad that this wasn't really a love story. Relationships and drama were never the focus of this trilogy, even though it may have had the looks of it. While I am a sucker for romance, romanticists like me won't find what they're looking for in these three books. Sever told dozens of tales of grief, tragedy and disaster, which weathered the characters but couldn't break them. This doesn't have a happy ending, but a fitting one, and I loved it very much.