The Crown of Embers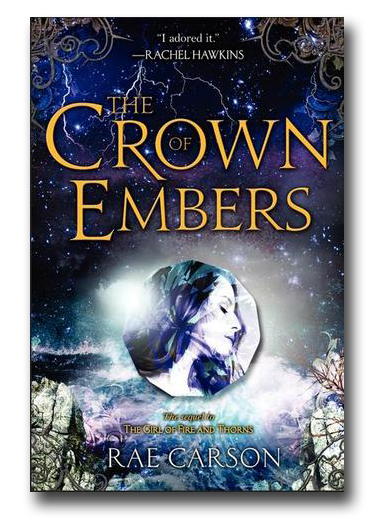 Release: September 18th 2012
#2 in the Fire and Thorns trilogy
Plot:
In the sequel to the acclaimed The Girl of Fire and Thorns, a seventeen-year-old princess turned war queen faces sorcery, adventure, untold power, and romance as she fulfills her epic destiny.
Elisa is the hero of her country. She led her people to victory against a terrifying enemy, and now she is their queen. But she is only seventeen years old. Her rivals may have simply retreated, choosing stealth over battle. And no one within her court trusts her-except Hector, the commander of the royal guard, and her companions. As the country begins to crumble beneath her and her enemies emerge from the shadows, Elisa will take another journey. With a one-eyed warrior, a loyal friend, an enemy defector, and the man she is falling in love with, Elisa crosses the ocean in search of the perilous, uncharted, and mythical source of the Godstone's power. That is not all she finds. A breathtaking, romantic, and dangerous second volume in the Fire and Thorns trilogy.
Review:
I was so very pleasantly surprised with this. After my unfortunate falling out with the first installment in this series, I dreaded picking this up. And I did at first, I had to force myself to pick this book up and read it, but if I did start reading, I enjoyed it. And one time, when I was like "Come on, read a bit more of this", I was suddenly hooked. I couldn't put it down again, and powered through it.
The Crown of Embers starts where the first one left off, with Elisa been Queen of Joya d'Arena and trying to figure out how to rule properly. She is self-
conscious
in her skills as a leader, while still carrying a regal and powerful aura with her. I loved that about her. There are several attempts on her life, and I loved this sense of crime mystery that resolves around who the assassin and her enemy is, which added such a nice and thrilling addition to the story. The plot was constantly moving forward with perfect pace. Plot twists were decent, most of them have been quite obvious, while still being very cleverly done. I loved how all that with Conde Tristán turned out, and even with the twist that came with him was awfully foreshadowed, it still managed to be something you found yourself nodding along to and saying, "Yes. Brilliant. That's brilliant."
The characters were all so very enjoyable, Jesus. Elisa was even more awesome than in the novel before, she wasn't afraid to be Queen but she wasn't too perfect at everything, and she made good decisions all the time. I came to enjoy her character so, so much. Then there's Mara, her new lady-in-waiting, which got her own short character arc which I was so grateful for, as she has become one of my new favorite characters, her balance between friendship with and respect for Elisa as her sovereign was so nicely done. The new key character here is Conde Tristán, and he was such a fine addition to the cast. His slow developing camaraderie with Elisa is so brilliantly constructed and fits so greatly into the plot. Plus, Tristán is a very charming and amusing new member of the club, I found him very agreeable. So was Storm, the second new character. His stubbornness and isolation, as well as his dialogue and sassy attitude were such a relief from the regal atmosphere of Elisa's queenly struggles, and while he certainly wasn't the only source of amusement, he was maybe my favorite. He has a special relationship going on with Elisa too, nothing with romance, but they grow to deeply respect and look after watch other, which was very endearing.
Hector plays a more prominent role as well, since he plays a new love interest. I was a little hesitant at first, after what happened at the end of the first installment (this is awfully hard to juggle without spoiling the ending), but I found I loved their relationship. It wasn't insta love, so it was very nice to see them fall for each other at a leisurely pace, starting in the first novel, and leading up to where they are now. Their predicament made the romance feel even grander and make me like it so much more. Very excited to see where this is going next.
Writing will probably never by my favorite, but I guess I'll have to admit that Carson's style isn't so bad. I struggled a bit at first, but after a while, it was more than decent. In fact, there is some witty dialogue that made me crack up.
Possibilities race through my head. Should I look for a weapon? Dodge and come up behind his guard? Trip him? Insult his mother?
"I'd like to teach you to use some kind of weapon," he says. "Maybe a quarterstaff?"
"A quarterstaff is not very subtle," I say. "Or handy. If a kidnapper comes at me, what am I supposed to do? Say, 'Excuse me, my lord, while I pull my enormous quarterstaff out of my bodice?'"
In that department, I adored Carson's writing. Maybe I like her humor even more than I do, say, Jennifer L. Armentrout's. Maybe. Although she's got nothing on Kerstin Gier.
One last thing, though. I adore the cover, I simply love the color composition. Seriously, that dark, navy blue/indigo hue with the mustard yellow title color looks so nice. Then, there's the detail with the waterfall at the bottom, which compliments the plot connected to it. Just extremely beautiful cover art.
In conclusion, I can say I am very pleased with this. I think I will be needing a little absence from the characters and plot, though, because I have had my fair share for a little while now. Though the final book won't be out for another month anyway, luckily. I wasn't so sure before, but I think I'll definitely give the sequel a try.