Perfect Chemistry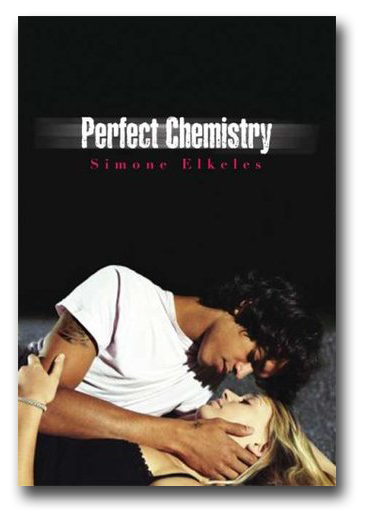 Release: December 23rd 2008
Genre: Contemporary Romance, YA
Companion novels: Rules of Attraction, Chain Reaction
Plot:
A fresh, urban twist on the classic tale of star-crossed lovers.
When Brittany Ellis walks into chemistry class on the first day of senior year, she has no clue that her carefully created 'perfect' life is about to unravel before her eyes. She's forced to be lab partners with Alex Fuentes, a gang member from the other side of town, and he is about to threaten everything she's worked so hard for: her flawless reputation, her relationship with her boyfriend, and the secret that her home life is anything but perfect.
Alex is a bad boy and he knows it. So when he makes a bet with his friends to lure Brittany into his life, he thinks nothing of it. But soon Alex realizes Brittany is a real person with real problems, and suddenly the bet he made in arrogance turns into something much more.
In a passionate story about looking beneath the surface, Simone Elkeles breaks through the stereotypes and barriers that threaten to keep Brittany and Alex apart.
Review:
I usually don't venture far into the Contemporary genre. It's just not my thing, so understand that I was very hesitant about picking this book up. However, I just bought it, and one day I felt like reading it. And boy, it exceeded my expectations.
The plot of the novel was gripping and intense. The romance was the focus, of course, but there is also a side plot line which was very interesting to follow and simply very nicely done. This book never failed to amaze me by keeping me constantly glued to the pages.
The characters really made this book. Alex was the nice guy with a tough exterior, while Britanny was tough with innocent girl looks. They are divided by insurmountable societal differences, but are partnered in Chemistry class. Nobody'd think something like that would ever work out, but you can feel the sexual tension between them right from the start. Both characters had so much depth to them and their personalities and ambitions were admirable and inspirational. The POVs didn't sound the same and I found I was enjoying both of the them, which is actually rare for me. The supporting characters, especially Isabel, Sierra and Doug, blew me away. Not only are the protagonists awesome, but even the minor characters are very strong and holding this book up. I bow to Elkeles, because she can make characters that have maybe five lines feel like they're alive.
The writing style was so very enjoyable, and it made the book really stand out. Both Brittany and Alex seemed so human and real, I mean, Alex sounded like a real guy. Romantic scenes between them are absolutely beautifully written and so is the developing relationship between the two of them. I was able to really experience them falling for each other and it was such a nice feeling and I got really excited for these two whenever they had a bonding moment.
To conclude, I really loved Perfect Chemistry. For a contemporary novel, it was just wonderfully done and written and the characters were amazing; I practically flew through this. I don't know yet whether I'm going to read the companion novels or not, but I will definitely consider it. I am a little sad that Brittany and Alex's story is over, though, and can I just say I adored the epilogue?