The Book Thief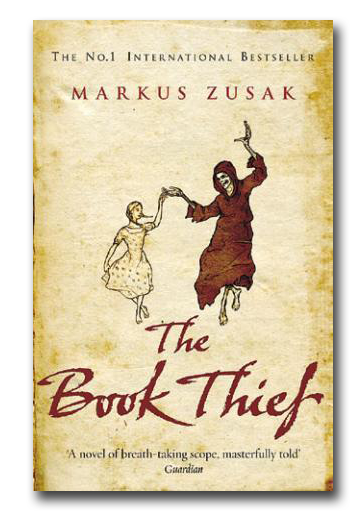 Plot:
Set during World War II in Germany, Markus Zusak's groundbreaking novel is the story of Liesel Meminger, a foster girl living outside of Munich. Liesel scratches out a meager existence for herself by stealing when she encounters something she can't resist–books. With the help of her accordion-playing foster father, she learns to read and shares her stolen books with her neighbors during bombing raids as well as with the Jewish man hidden in her basement before he is marched to Dachau.
The country is holding its breath. Death has never been busier, and will become busier still.
Review:
I have cried during this novel. And I have smiled, laughed, been shocked and amazed.
The Book Thief started out a little slow. It took me about 150 pages to really get into it, and I still wasn't very gripped by the story by then. But. I read on, because I loved the characters, and I am very happy that I finally finished it and got through my reading slump with this because this is truly an amazing book.
For me, it's a story about the loss of innocence — Liesel experiences one tragedy after another, at a very young age, and they change her as well as define her. She was a very unique and intriguing character, and she was so strong and radiant, I swear she was a beacon. There are no words for how Liesel is a wonderful character. So were all the others, Hans Hubermann was such a loving, embracing father, I could feel his affection for his foster daughter through the pages. The same goes for Rosa, maybe not during the early stages of the book, but later on, she definitely showed how much of a nice woman she really is and I loved her development in that department and her change of heart in general. Rudy was so enjoyable and adorable, he was a great friend to Liesel and their relationship blossomed so natural and perfectly. I even adored the narrator, Death itself, as his narrative was really fresh and out-standing.
Which brings me to the writing, which was beautiful. Remarkable. Zusak's writing is meaningful, philosophical and poetic, which is everything I could ever ask for in writing styles. I absolutely, unconditionally loved the writing and the narrative style. Death spoilered everything for us right at the beginning, basically, but you get so engrossed into the characters and the story, you soon forget about it, so you get surprised again anyway. And even though it took a lot of suspense from the plot, I found I still liked this method of foreshadowing: just outright telling what's going to happen.
Now, I was certainly not prepared for that ending at all. It was cruel, and yet very fitting, because remember what I said about this story being about losing one's innocence. Just know I shed a lot of tears while reading the last fifty pages.
This book will change your mind about things and give you a look into what the world was like not for the Jews, but also for Germans, non-Nazi Germans, during the Holocaust. It doesn't trick you into feeling guilty or pity for the Jews, even though there is one character that represents their misery. And it didn't show all the Germans in a bad light, because there were the small acts of rebellion from Liesel and her family/friends, and it's what really happened; a lot of Germans didn't agree with the Führer's ideals, and it seems to me like many people forget about that.
All in all, just a great, lovely read. Especially if you're interested in WWII, this novel is definitely for you.