The Girl of Fire and Thorns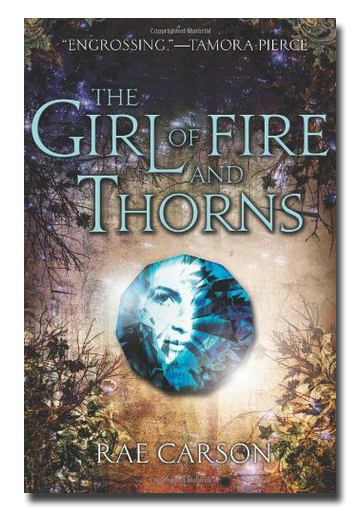 Release: 20th September 2011
#1 in the Fire and Thorns trilogy
Plot:
Once a century, one person is chosen for greatness.
Elisa is the chosen one.
But she is also the younger of two princesses, the one who has never done anything remarkable. She can't see how she ever will.
Now, on her sixteenth birthday, she has become the secret wife of a handsome and worldly king—a king whose country is in turmoil. A king who needs the chosen one, not a failure of a princess.
And he's not the only one who seeks her. Savage enemies seething with dark magic are hunting her. A daring, determined revolutionary thinks she could be his people's savior. And he looks at her in a way that no man has ever looked at her before. Soon it is not just her life, but her very heart that is at stake.
Elisa could be everything to those who need her most. If the prophecy is fulfilled. If she finds the power deep within herself. If she doesn't die young.
Most of the chosen do.
Review:
I'll have you know that I'm Catholic. Even being Catholic, I am still not a very religious person: I don't go to church every Sunday nor do I pray every night.
That being said, this book felt like it was cramming its belief down my throat, and that belief was Christianity. So if I, as a Christian myself, felt bothered by that, it's not a good thing.
However, this gets better as the story progresses, so I was able to enjoy the novel at last. Unfortunately, though, soon after that the pace slows extremely and I got quite bored. Characters I previously enjoyed got either too melodramatic, were unbearable, or just didn't get screen time anymore. At this point, the book drags on and on and it took a lot of pages before I got invested into the story again, simply because I couldn't really lose myself into it up until that point.
But, when things do pick up and the plot is interesting, this book is good. It's very entertaining and gripping.
The characters are so-so. Our heroine, Lucero-Elisa, was a prime example of a heroine, with much character development and a nice personality. She's my spirit animal, I swear. I liked Elisa right from the beginning and even though she's had her moments during the middle where she was starting to lose her appeal, she soon recovered and started being awesome again. I really liked her, despite my having had some issues with her. Cosmé was a very great character as well, she goes through a lot that defines her character traits and I respected her very much. Prince Rosario was adorable and smart, a sweet combination and a nice addition to the cast. Besides those three that I feel strongly for, there really aren't a lot of characters. Some were just names on a page that I couldn't even bother to remember, some didn't come alive and some weren't developed enough. The love interests, for example, were both very flat and uninteresting. There are others, though, that despite being 2D as well, were still likeable, like Father Nicandro and Ximena.
Writing was okay. It didn't have the lyrical, poetic ring to it that I love from a lot of my favorite authors and 1st person present somehow never got to me in this novel. Usually, I adapt very fast and don't even notice it (like in Divergent or The Hunger Games) but I was painfully aware of it during this novel.
I am going to read the sequel, although I don't know yet what's going to happen. The ending was very closed off and there really weren't a lot of loose threads, so we'll see where Carson is going to take us next.