In The After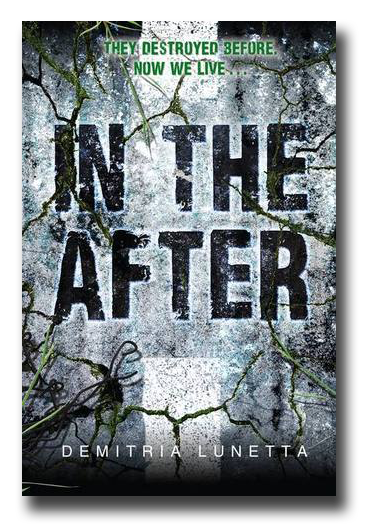 Genre: Post-Apocalypse, Utopia, YA
Plot:
They hear the most silent of footsteps.
They are faster than anything you've ever seen.
And They won't stop chasing you...until you are dead.
Amy is watching TV when it happens, when the world is attacked by Them. These vile creatures are rapidly devouring mankind. Most of the population is overtaken, but Amy manages to escape—and even rescue "Baby," a toddler left behind in the chaos. Marooned in Amy's house, the girls do everything they can to survive—and avoid Them at all costs.
After years of hiding, they are miraculously rescued and taken to New Hope, a colony of survivors living in a former government research compound. While at first the colony seems like a dream with plenty of food, safety, and shelter, New Hope slowly reveals that it is far from ideal. And Amy soon realizes that unless things change, she'll lose Baby—and much more.
Review:
I don't know whether to rate it 3.5 or 4 stars. I really loved the second part, but I did have a few issues with the first part. I guess it's something in between?
The first 100-150 pages were good. They were far from bad, but they simply didn't really grip me. Nothing that interesting happens during those and the characters aren't very interesting yet at that point either. So, while it was nice and enjoyable, I only ever really looked forward to reading until about page 200. And from then on, this book was truly great. I can definitely see why it's gotten so many good reviews.
Let's start with plot. Like I said, while the first half is nice and smooth, there isn't really much plot. It doesn't get rolling until halfway in. Things are happening, but not all the time and pretty much always the same. Until part 2 of the book starts, though, and things pick up. And it all goes uphill from there. Only uphill. There wasn't a single dull moment during the rest of the novel.
Characters weren't really that strong and didn't leave a lasting impression. While I did like Amy a lot, she didn't blow me away, neither did Baby. The other characters, like Rice or Amy's mom, didn't do much either. While they all triggered some emotion in me (like fondness for Rice, or hatred for Amber), I can't say that they were very well characterized. They weren't bad either, though, like I said, so... I don't know. I'm confused. I don't really want to say anything too negative, but I can't help the fact that there isn't a lot of characterization for any characters other than Amy or Baby. Rice gets a small character arc, but it's really tiny.
Structure was nice. A clear beginning, middle and end climax, and also a lot of suspense that is maintained throughout the whole book. Nice one, Lunetta.
All in all, a very pleasant and nice read, not too light but at the same time not too heavy either, I am very satisfied with this book. It's money well invested. And I am eagerly awaiting the sequel and will definitely read that as soon as it comes out.