The Elite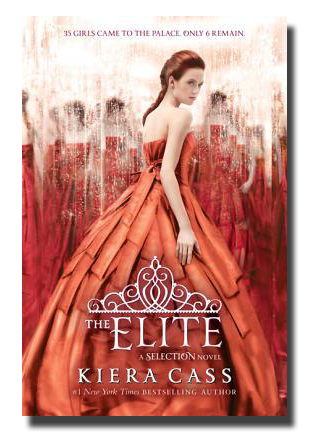 Genre: Dystopia, Romance, YA
#2 in the Selection series
Plot:
The hotly-anticipated sequel to the New York Times bestseller The Selection.
Thirty-five girls came to the palace to compete in the Selection. All but six have been sent home. And only one will get to marry Prince Maxon and be crowned princess of Illea.
America still isn't sure where her heart lies. When she's with Maxon, she's swept up in their new and breathless romance, and can't dream of being with anyone else. But whenever she sees Aspen standing guard around the palace, and is overcome with memories of the life they planned to share. With the group narrowed down to the Elite, the other girls are even more determined to win Maxon over—and time is running out for America to decide.
Just when America is sure she's made her choice, a devastating loss makes her question everything again. And while she's struggling to imagine her future, the violent rebels that are determined to overthrow the monarchy are growing stronger and their plans could destroy her chance at any kind of happy ending.
Review:
Sigh. I am very torn about whether I'm going to read The One or not. I kind of want to know what happens now, while I also dread condemning myself to this torture a third time. What is it about this series?!
Structure wasn't as messed up as in The Selection, unexpectedly. There was a clear middle and end climax, and they actually did something to get the ball rolling! What?! Yes, they reflected back into America's behavior and actions and changed her way of thinking, both of them. And it was very well done, I have to give Cass that.
However. However, the characters are still very 2D and I groaned about a hundred times because one of them, mostly America and Aspen, did something completely stupid. America is still a very dumb, shallow and naive girl, Aspen is still a controlling, egotistical jerk and Maxon is still the face of innocence and perfection which just makes him a ridiculous Gary Sue.
This also reminded me a bit of The Hunger Games meets Twilight. Aspen and Maxon reminded me so much of Gale and Peeta in their actions, especially Aspen. Of course, they lack the finesse and depth Gale and Peeta do, but Aspen pulled a hell of a Gale, trying to manipulate America into loving him and always whining about how he's so afraid to lose her and what not. Oh! What a tragic soul! Seriously, how can you even be "Team Aspen", let alone like the guy? That's beyond me. Not that I particularly like Maxon or am "Team Maxon", but he's at least not as bad.
Well, besides character development, there is something else Cass completely sucks at, and that is decent foreshadowing. She completely spoils the whole plot and the plot twists with her foreshadowing, because she apparently thinks we're all idiots and couldn't possibly see through her cleverly disguised hints. Yeah, right. I mean, there's nothing wrong with foreshadowing, if done right. It doesn't even have to be something you later look back on and think, "Duh! This is what that was all about!", but it's totally okay to have some really obvious foreshadowing, just not the whole time...
As soon as there was something like this, quote, "Because now I was his. I knew it. I'd never been so sure.", you can count on it that something is going to happen that is going to destroy this "certainty." And while we're at it, these things happened a lot, America saying she "was never this sure, this was going to be forever", and then she changed her mind again. Constantly sneaking around with Aspen, being certain she'll marry him, and then going back to Maxon anyways. These poor guys, I can totally understand them for being annoyed to hell with America.
Writing was decent again. Some words were written strange, like "flip-ping", or "butter-fly." Why the dash? Huh?
All in all, the first half was agonizing and I was damn ready to skim my way through this to the end again, because I couldn't take it anymore. But then this thing happened, and things started getting more interesting and I didn't skim as much anymore. At the 75% mark, I was back to reading leisurely and thoroughly and that's also the reason for the second star. If not for the last 25%, this would be a cruel 1 star rating.