Frigid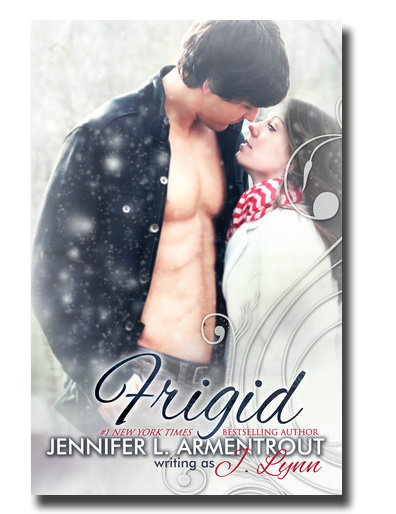 Author: Jennifer L. Armentrout
Genre: New Adult, Contemporary
Plot:
For twenty-one-year-old Sydney, being in love with Kyler isn't anything new. They'd been best friends ever since he pushed her down on the playground and she made him eat a mud pie. Somewhere over the years, she fell for him and fell hard. The big problem with that? Kyler puts the 'man' in man-whore. He's never stayed with a girl longer than a few nights, and with it being their last year in college, Syd doesn't want to risk their friendship by declaring her love.
Kyler has always put Syd on a pedestal that was too high for him to reach. To him, she's perfect and she's everything. But the feelings he has for her, he's always hidden away or focused on any other female. After all, Kyler will always be the poor boy from the wrong side of tracks, and Syd will always be the one girl he can never have.
But when they're stranded together at a posh ski resort due to a massive Nor'easter, there's nothing stopping their red-hot feelings for each other from coming to the surface. Can their friendship survive the attraction? Better yet, can they survive at all? Because as the snow falls, someone is stalking them, and this ski trip may be a life-changer in more ways than one.
Review:
Sigh. I expected way too much of this and I don't even know why.
Many of you may know, I'm not usually a fan of contemporary. However, these past few months I have read a handful of contemporary novels I really enjoyed — like Anna and the French Kiss, or Perfect Chemistry — and so I was thinking, 'Hey, maybe the genre isn't that bad.' But Frigid reminded me again why it is, though.
Plot? What is that? And that's exactly why I have a problem with contemporary. I have a huge problem with romance standing in the foreground, being the main focus of the story. I don't know why, but it bothers me so much. And while there was a teeny tiny sideplot in here, it didn't mask the importance of the romance. And wasn't all that interesting anyway, because it was crystal clear to me who the culprit was... so, plot didn't do it for me at all.
What about characters? They're usually the ones that save this genre for me. But not this time. Sydney was annoying the shit out of me. Constantly being self-conscious and expecting the worst, crying the whole fucking time about how Kyler surely didn't love her and being a whiny bitch. She was awful, AWFUL I TELL YA. It was unbearable with her. Kyler wasn't much better, he was as flat as his eight-pack stomach. Probably even flatter. I thought it was a great way for characterization, to have a man whore being deeply in love with his best friend, but NO. Armentrout did not seize the opportunity. I am disappointed. Other characters aren't even worth mentioning, although I did like that Tanner guy. Probably more than Sydney and Kyler combined.
Ugh, the romance. It was pathetic. The constant back and forth of "Oh maybe he/she loves me—wait, nooo, no way! Surely they don't! I'm not worthy of their love anyway." IT WAS RIDICULOUS. Their inner monologues reeked of pity parties for themselves and I hated every second of it. By the 60% mark, I was skimming more often than I would have liked. They would have a little (or a lot of) sex, then go back to being miserable because the one did something that the other party completely misunderstood and it was drama; drama, baby! Bleh.
Writing was okay. I love Armentrout's humor and she had me cracking up at a lot of times, but sadly, the jokes couldn't save this either. What was this book trying to say? That love conquers all? That you can maintain love for years with as bright a flame as the first moment? Childhood friends make great couples? Idk but it failed to make a lasting statement and it was just sad.
All in all, this entire book failed me. A huge disappointment, especially since I originally liked Armentrout's books. But after Opal and Apollyon have already fallen through for me this year, I am getting more and more frustrated at her. I want to like her books, but I can't. Not anymore, it seems.