Siege and Storm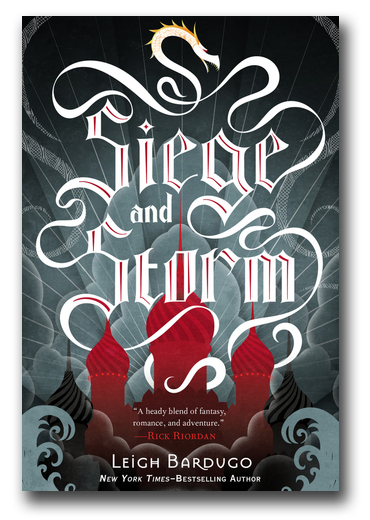 Genre: Fantasy, Magic, YA
Plot:
Darkness never dies.
Hunted across the True Sea, haunted by the lives she took on the Fold, Alina must try to make a life with Mal in an unfamiliar land, all while keeping her identity as the Sun Summoner a secret. But she can't outrun her past or her destiny for long.
The Darkling has emerged from the Shadow Fold with a terrifying new power and a dangerous plan that will test the very boundaries of the natural world. With the help of a notorious privateer, Alina returns to the country she abandoned, determined to fight the forces gathering against Ravka. But as her power grows, Alina slips deeper into the Darkling's game of forbidden magic, and farther away from Mal. Somehow, she will have to choose between her country, her power, and the love she always thought would guide her–or risk losing everything to the oncoming storm.
Review:
Can I give this a million stars? A billion? Pretty pretty please?
Holy shit. Holy damn shittyty shit. What... I can't even. Holy cow. I don't know where to start.
This book... I liked Shadow and Bone a lot. But this tore everything from its hinges. It was mind-blowing, heart-wrenching, astounding, I ... I am speechless at this sheer awesome badassery. How can you even craft something as amazing as this?! This should definitely be the new holy grail and be celebrated like a saint (inside joke intended).
Let me get a little more coherent.
The book starts off maybe a few weeks after where Shadow and Bone has left off. Mal and Alina are on a ship across the True Sea, running away from the Darkling. I truly cannot say more than that, really, because otherwise I would be giving too much awesomeness away and I very much don't want to spoil anyone this spectacle. I can just say, I hadn't even been to page 100 and already, so many things had happened my mind couldn't possibly wrap itself around them. I basically looked like a fish, gaping at the book like the idiot I felt like while reading this. I could not fathom how things turned out, because I could not for the life of me could have seen all those evil little plot twists coming from a thousand miles away.
So, yeah. The plot was absolutely brilliant, wonderfully crafted and so, so beautifully written. I loved it. I loved all of it. I am so sad it ended and I have to wait a whole year to consume more of this. Devour more of this, because I seriously did devour this book like it was air and I was choking. It was just so good YOU HAVE TO BELIEVE ME.
The characters? Oh god. Oh. My. God. I feel like crying. There are a few new characters we are introduced to and THEY ARE SO GREAT. I LOVED EVERY SINGLE ONE OF THEM JESUS CHRIST WHY HOW WHAT. How could Bardugo create such perfect characters?! I usually have at least one character I can never stand, but ... there wasn't one. I didn't even hate or dislike Zoya, the petty hateful Grisha that has been mean to Alina in the first novel and doesn't stop here.
Call me wrong in the head, but not only do I not dislike the antagonist, I absolutely love him. I don't know why I'm still waving Darkling flags like a little fangirl after everything, but ... I do. Maybe I even like him a little more than I did during the last book. No, scratch that. I DO like him more than I did in Shadow & Bone. I just... I love him to pieces!
Also, I didn't care much about Mal in the last novel, I didn't dislike/hate him (of course), but I was just indifferent towards him. He plays a more important role in this book, predictably, and I have so loved seeing more different sides to him. I loved him, too. Not as much as The Darkling, but it's saying VERY much if I love both of the guys of this "love triangle" (you can't really call it that, though, I think. This is something more unique than the average love triangle, like in The Infernal Devices). And also, if I blindly adore the antagonist, and basically every single character, it says a lot about how skilled the author is. Really.
Especially since I do love the heroine, as well. I usually hate heroines. Particularly Heroines that cry all the time, and while there were more times than I would have liked that Alina had tears running down her cheeks, she more than made up for that. There were quite a lot of DAMN EPIC scenes with her. I was literally pounding my fist into the air and like "ZOMG ALINA I LOVE YOU <3". Like I said, this book transformed me back into a 12-year-old, feeling for all the characters, eyes glued to the pages, unable to put the darn book down. I loved it.
Character development? DID I HEAR CHARACTER DEVELOPMENT? Oh hell yes. There was SO MUCH character development here, holy hell. It was breathtaking to be able to see the characters grow, grow stronger, more determined and realize things about themselves they couldn't even begin to fathom before. See them question themselves and their motives, their decisions. IT WAS SO BEAUTIFUL ARGH I WANT MORE. This was a show of how talented and great and AWESOME Leigh Bardugo is at telling her stories, at creating her characters specifically. Wow. Wow. Wow.
The pace was stunning. What had bothered me a little in the first book was the passage of time, how it felt a little crammed together sometimes, so you didn't actually feel like any time has really passed, which was also a huge problem with Beautiful Creatures, but Bardugo has mastered this absolutely flawlessly in this novel. Respect. Furthermore, the book never had any boring passages at all, it kept being thrilling and full of suspense, did I already say I could not have put it down had I even wanted to? The gift that keeps on giving, so to say. There were so many climactic moments and they didn't feel like they were pushed on us at all, it just flowed so naturally. The end was one of epic proportions with a cliffhanger that came from the deepest pits of hell itself. You thought Rick Riordan was bad with the ones at the end of The Lost Hero or The Mark of Athena? Or Cassandra Clare, Richelle Mead and the like were bad? This is torture. Pure anguish. I could as well cook in the hellish fire of the devil's lair, it would bring the same pain, waiting for the next book...
I don't know what else to tell you. I am truly, honestly blown away. I can't really focus on anything but the sheer fabulousness. This was just more perfect than it ever could have been. There were one or two scenes I was imagining in my head, wanting them to happen and they ACTUALLY DID HAPPEN. Seriously, this book was all I could have hoped for and more. I loved it. Everything about it. It really did not disappoint in any way.
I am actually starting to question my favorite book choice. Currently, my favorite books are The Iron Fey by Julie Kagawa but... maybe. Maybe this could top it. I think I'll be waiting for the third and final book to make that decision, though. But it's safe to say, this is a now my second favorite of all time. I didn't really have an "official" one before, but I guess now I do.
Please, read this. Give this series a go. I am sure you'll find something you like, and if you happened to dislike the first, read this second installment, anyway. I am almost willing to guarantee to anyone they will love this book or at least like it. Willing to sell my soul and everything.