The Iron King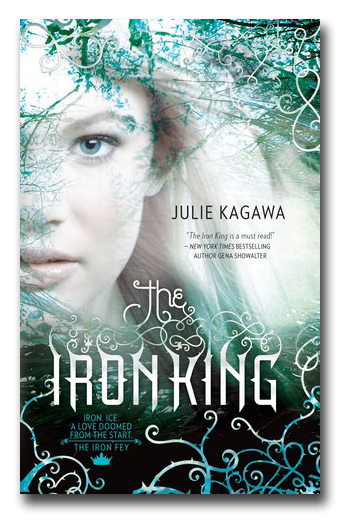 Release: February 1st 2010
Genre: Paranormal, Faeries, Fantasy, YA
#1 in the Iron Fey series
Sequels: The Iron Daughter (#2), The Iron Queen (#3), The Iron Knight (#4)
Plot:
Meghan Chase has a secret destiny; one she could never have imagined.
Something has always felt slightly off in Meghan's life, ever since her father disappeared before her eyes when she was six. She has never quite fit in at school or at home.
When a dark stranger begins watching her from afar, and her prankster best friend becomes strangely protective of her, Meghan senses that everything she's known is about to change.
But she could never have guessed the truth - that she is the daughter of a mythical faery king and is a pawn in a deadly war. Now Meghan will learn just how far she'll go to save someone she cares about, to stop a mysterious evil no faery creature dare face; and to find love with a young prince who might rather see her dead than let her touch his icy heart.
Review:
This was just. wow. Amazing. This series is definitely one of my favorites ever. I've liked these four better than I have The Mortal Instruments or The Hunger Games, so ... they're really, really great books.
Now, the plot may seem really mushy and lovey-dovey when you read that blurb, but really, it's not. Of course there's a love triangle, but it's not dominant and the action outweighs all the fluff and let me tell you - there's no shortage of suspense! I couldn't put the book out of my hands because every event leads to another even more thrilling one. There was tension all the time that kept you turning the pages and telling yourself, "just one more chapter. just one. screw it, another one." and so on!
And the romantic stuff ... God, can I just say I loved everything about the romance in these books? Everything? Of course, I am Team Ash - have been since the very first start. And it all develops gradually. Meghan doesn't fall for Ash instantly, she's attracted to him, yes, but she doesn't throw herself at him after fifty pages. And the whole "I'll kill you" stuff wasn't like Edward's "hurr stay away from me I'm dangerous durr" blubber, it was serious and intense. Ash certainly isn't one to play around with! Also, Julie just has a hand for writing everything so beautifully and brings so much details into everything. I had my very own butterflies in my stomach when I read about Meghan and Ash's and even Meghan and Puck's romantic scenes. It was all so well written, wow. I cannot say anything other than Wow.
Let's get to the characters. Can I just tell you that I loved every single one of them? Even the unlikeable bitches like Shard or Mab or Titania. Especially Ash. God, he was so gorgeous, he's now my #1 favorite character, throwing Simon Lewis off his throne (Sorry, Simon!). Usually, I dislike all the heroines because they always do something that makes me want to rip my hair out (like, doing something really stupid and life-risking when told not to), but I totally loved Meghan! She was down-to-earth, relatable and just plain lovely. She has such a nice character and she's brave and strong, Meghan is a really good role model. I've heard some compared her to Bella in Iron Daughter, but that's not how I thought of her at all. After Ash just deserted her and practically called her a worthless whore, she cried, of course. Wouldn't you cry too if the guy you loved dumped you? Sure you would, if you really loved that person and thought they loved you, too. And Meghan certainly did think that after what they've been through in the Iron Kingdom. But after her pity party, she didn't give up. She wore a tough exterior, had a steady mantra (»I'm made of Iron.«) and held her head high. She was determined not to show that she was falling apart because Ash gave her the cold shoulder. She was strong. And to remind you, Bella stumbled through life like a zombie, numb and lifeless after Edward left her. That is NOT what Meghan did. Also, you could follow Meghan's development so nicely! In Iron King she was just another teenage girl, crushing on the popular football quarterback and living a pretty normal life. But she gradually develops into a fighter, she learns how to wield a sword, how to stand your ground against a whole army of enemies, how to be a leader. And like I said, she doesn't let it get to her head, she's still down-to-earth! She's not arrogant or spoiled. Also, she's no robot, she loves and cares about her family and people close to her (Ash, Puck, even Grimalkin and Razor, the gremlin) and she's willing to take great measures to keep those people safe (She went into a whole new world she knew nothing about to save her brother!).
And Ash. He developed, too. At first, he was a distant, cold and bloodthirsty Unseelie prince. He was practically untouchable by anything, especially emotions. But with time, and because of Meghan, he starts to feel again, and begins to be a better person: In Iron Knight, he's feeling regret and remorse because of all the bad things he's done, he tries to keep Meghan save and he's extremely loyal to her. Even after he's so devastated because of Ariella's death, he learns to love and care again. He's just super sweet and he just raised my expectations of men to Faery Prince!
All in all: Everything's great. The characters, the plot, the love story, the setting(s) and all that. I can only recommend to read these books immediately if you haven't done so already!