Opal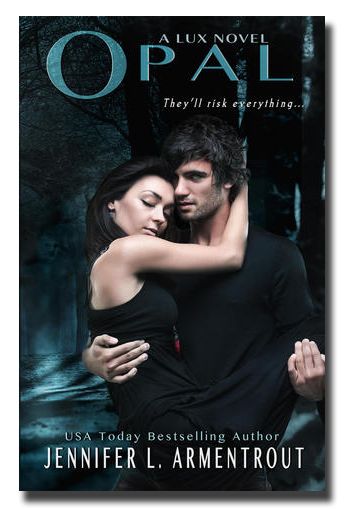 Author: Jennifer L. Armentrout
Release: December 11th 2012
Genre: Supernatural, Aliens, Urban Fantasy, YA
Series: Obsidian (#1), Onyx (#2), Origin (#4), Opposition (#5)
Plot:
No one is like Daemon Black.
When he set out to prove his feelings for me, he wasn't fooling around. Doubting him isn't something I'll do again, and now that we've made it through the rough patches, well... There's a lot of spontaneous combustion going on.
But even he can't protect his family from the danger of trying to free those they love.
After everything, I'm no longer the same Katy. I'm different... And I'm not sure what that will mean in the end. When each step we take in discovering the truth puts us in the path of the secret organization responsible for torturing and testing hybrids, the more I realize there is no end to what I'm capable of. The death of someone close still lingers, help comes from the most unlikely source, and friends will become the deadliest of enemies, but we won't turn back. Even if the outcome will shatter our worlds forever.
Together we're stronger... and they know it.
Review:
There were a gazillion things that irked me about the book. The pace. The characters, their relationships. One time, the heroine actually cried real tears because her boyfriend went to dinner with his ex-girlfriend AND his sister and another male friend of his. OH NO SHIT THE WORLD IS ENDING DARN IT! No, seriously. That was just ridiculous. Secondly, I hated how Katy's relationships with Dee and Blake turned out. There should've been way more development there. The book was way too full of Daemon and Katy, even though SUPPOSEDLY they hadn't gotten much "one-on-one"-time. Didn't seem that way to me, for sure. And there were just too many plotlines that didn't really come together for me. There is one scene where the evil villain from the books before comes back but that scene just seemed like a failed try to sum it up and close it so nobody can question it and call out plot holes. It was very weird and felt like a desperate attempt at having another climactic highlight.
Then again, there were a few things I liked. The humor, for example, I did laugh a lot while reading this. Armentrout does have a knack for coming up with witty comebacks. The actual climaxes were thrilling and full of suspense as well, although what happened at the end was so predictable, she basically held up huge signs in form of foreshadowing so everyone with half a brain knew what was going to happen.
So all in all, like I said, it was okay. It dragged so much in the beginning, which was why I dreaded picking it up for a little while and took my sweet time finishing this, but ... well, there is no but. That's it. I really don't know if I will be picking up the next book, and that's saying something because usually, the point of huge, "Oh god what"-cliffhangers like these are exactly that: getting the reader to want to buy the next book and it didn't do it for me. Maybe it's me, maybe it's the book, either way, I like her Covenant series way better.