Beautiful Chaos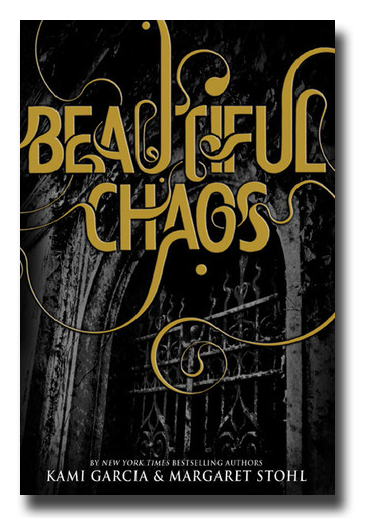 Authors: Kami Garcia & Margaret Stohl
Release: October 18th 2011
Genre: Supernatural, Urban Fantasy, YA
#3 in the Caster Chronicles
Plot:
Ethan Wate thought he was getting used to the strange, impossible events happening in Gatlin, his small Southern town. But now that Ethan and Lena have returned home, strange and impossible have taken on new meanings. Swarms of locusts, record-breaking heat, and devastating storms ravage Gatlin as Ethan and Lena struggle to understand the impact of Lena's Claiming. Even Lena's family of powerful Supernaturals is affected - and their abilities begin to dangerously misfire. As time passes, one question becomes clear: What — or who — will need to be sacrificed to save Gatlin?
For Ethan, the chaos is a frightening but welcome distraction. He's being haunted in his dreams again, but this time it isn't by Lena - and whatever is haunting him is following him out of his dreams and into his everyday life. Even worse, Ethan is gradually losing pieces of himself — forgetting names, phone numbers, even memories. He doesn't know why, and most days he's too afraid to ask.
Sometimes there isn't just one answer or one choice. Sometimes there's no going back. And this time there won't be a happy ending.
Review:
Wow. This was actually very good.
So, I liked Beautiful Creatures and Beautiful Darkness. They were enjoyable most of the time, but the pacing was a little slow and, it just wasn't the best reading experience for me. But, Beautiful Chaos? Very good work.
What I liked was, things happened. Things, I didn't see coming and things, I saw coming from a mile away, too. But either way, the book was always in motion. Not at the beginning of course, it takes a few hundred pages to get really into it and until then, the pace is still a little lacking like in previous two books. But there is one incident in Gatlin and after that, things get taken up a notch.
A lot of the things that happened were extremely shocking and thus, even more exciting to read about. We get to know more about Sarafine, which I found so interesting and also get a little, uhm, closure about her. Anyways, we get to know who the actual, real villain of the book is for sure now.
The characters were mostly brilliant in this novel, I even started to like Ethan a bit. Lena has recovered, I just found her a little annoying at the end, but it was kind of understandable. I'm not holding it against her. Liv has lost some of her appeal because of a certain relationship she builds with another character, which was really, really sad but, oh well. Link was by chance even more awesome, although he didn't get quite as much action as in the last book, at least that's how it came across. He is still a crucial part of the story, though and saves everyone's asses more than once. The development and generally what happens with Ridley leaves a lot of questions, but I guess (or hope) they'll get answered in the next book. Macon and Amma "evolve" so much, holy cow, it's really amazing to read about, as well as daily life with the Sisters and, god - Aunt Prue! She was too great. All in all, there's a lot of character development and we see a whole bunch of new sides that were so very interesting and intriguing to see about many characters we didn't get to know much about in the last books.
The story was, I already mentioned, brilliantly crafted and I read this quite fast, which is saying something. What was really positive was that Ethan Carter Wate and Genevieve Duchannes were picked up again at one point or two, because that was something that had irritated me a lot about Beautiful Darkness - the whole first novel revolves around them and then it never gets picked up again. No one ever said a word about them again, ever. It was confusing.
Anyhow, what I'm expecting to see in Book #4: more of Lena and how her Half Light/Half Dark Caster thing is turning out, because we didn't really see what all that actually meant for her, only what the consequences of her choice for the world were. Then, what happened to Ridley. More Link and Leah, please. What happens with Amma. Macon's power. And of course, solving the cliffhanger on which this book ended. Let's see how much of this I'm gonna get.