Shadow and Bone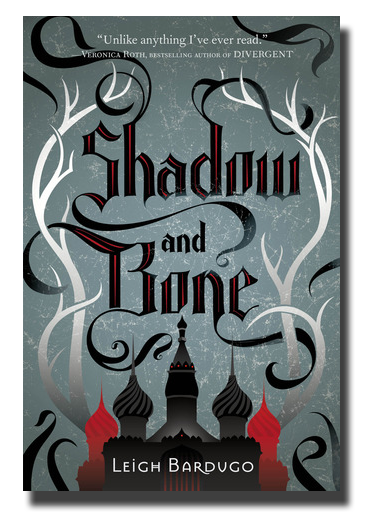 Genre: Fantasy, Magic, YA
Plot:
The Shadow Fold, a swathe of impenetrable darkness, crawling with monsters that feast on human flesh, is slowly destroying the once-great nation of Ravka.
Alina, a pale, lonely orphan, discovers a unique power that thrusts her into the lavish world of the kingdom's magical elite—the Grisha. Could she be the key to unravelling the dark fabric of the Shadow Fold and setting Ravka free?
The Darkling, a creature of seductive charm and terrifying power, leader of the Grisha. If Alina is to fulfill her destiny, she must discover how to unlock her gift and face up to her dangerous attraction to him.
Wow. Wow, wow, wow. You know that feeling when you read a book in practically one sitting and then you just sit at the table numbly, eating your cereal and your mom asks you what's wrong and you can't say anything because "I've just experienced emotional trauma and turmoil at the hands of a hardcover" sounds too ridiculous? This is what happens when you read this book.
I had medium expectations when I began reading this. It had very many 4 or 5 star reviews and 4.22 stars in average, so trap this thing between a beautiful, beautiful cover and I'm in. So, when I opened the book and turned the first few pages with the land map and the list of Grisha, I was already a little fascinated. After about the first twenty pages, I was saying to myself "Damn, this is gonna be good." And, yes. Yes, it was good. Very good indeed.
In Alina Starkov's world, every child is "tested" for special powers resting inside of them, so was Alina, but there was nothing found during her little test. So, as an orphan, she goes off to bide her time in the First Army as a mapmaker, drawing maps of the land, with her best friend Mal, who is a tracker, meaning (who would have thought) he tracks things down that are being searched for. One day, their regiment enters a kind-of sea thingy that's completely engulfed in shadows and darkness, with vulture-like things inside it that kidnap and probably eat humans. Short, they're killing machines. So when Mal is gravely injured by one of those, Alina lights up like a big torch and saves everyone, yadda! She's then believed to be the big salvation of the country, a means to end war and bring peace and so she's shipped off to the Palace (or, better, Palaces, since there's two of them) where she's trained to control and summon her power. But in between the usual girl/teen drama and lustful romance, she's discovering big secrets about what she's supposed to do after she's learned how to fully use her powers.
This plot doesn't seem too special, does it? You're right, I didn't think this book was that interesting, either, but as soon as I began reading, I liked everything about it. Of course, there were some things that I didn't like, but let's begin with my likes.
This book had some serious work put into it. There was a map on the first pages so that you could imagine the places and orient yourself better while reading, which was a big plus. But, the whole concept of the modern Russia-like country/kingdom and the Norwegian/Finnish/Chinese regions that bordered it (also known as the enemies), as well as the whole Grisha plot was amazing. It was new, it was something else and it was interesting. If you're looking for a fresh breath of air in YA novels that don't include vampires, werewolves, angels or the like, this one's for you. There was no info-dump and you could adjust to being dropped into this unknown world quite well, even if some words were explained at a later time than when they are first mentioned. Still, congrats on building a fucking interesting and credible world, Bardugo.
Characters and Character Development
FUCK NO. THIS BOOK ACTUALLY FEATURES CHARACTER DEVELOPMENT. Something you rarely see anymore in YA novels these days, but, yes — this book has it. Alina Starkov is a naive, lost girl who is pushed around and picked on constantly, feels self-conscious about her appearance and follows the rules. But, without spoiling anything, I can say that by the end of the book, she has evolved into an independent, strong woman who can stand up for herself and defend herself if need be.
But, aside from the fact that actually has character development, the characters themselves were likable even without it. They had depth, they were credible, they were amazing. Okay, so I'll admit the Darkling reminded me extremely of Prince Ash from Julie Kagawa's The Iron King, so maybe that's why I was so drawn to him. Still, he was probably my favorite character. He was complex, mysterious and dark, obviously the abusing, hot and brooding guy/love interest many of you know, but he's not nearly as shallow as most of that kind. No, he was mysterious, but not in a way that was all angst or narrowed eyes, he did actually laugh and smile, and he showed signs of human-ness, like want and lust or admitting to making mistakes (I really had to smile at that).
I've already talked about Alina, which leaves Mal as the last main character, and I'll be honest, I started shipping Alina and the Darkling as soon as there was even the SLIGHTEST chance of a blossoming romance between them, so obviously I wasn't that thrilled about Mal. Still, he was a very sweet guy and I found I didn't have to only tolerate his presence, no, I liked the little screen time he had at the end and the beginning, he was likable as well. Just by far not one of my favorites. Genya, on the other hand, I liked very much, because she was funny and loyal, and she was a character that grew beyond her gorgeous beauty.
What would a YA novel these days be without that hint of romance? There isn't too much of it in this book, though. I'm being honest with you, I'm a sucker for the lost, ice-cold dark prince that warms up to and falls in with love the not-so-special-but-at-the-same-time-super-special random new girl (aka in most cases, the heroine) so, like I said, I instantly felt the chemistry between the Darkling and Alina and I could. not. help shipping them. Believe me, I couldn't. I couldn't even stop after, you know. Yes, I'm sick and twisted like that, don't judge me. I don't want to spoil anything, so I better leave it at this, and only say one more thing: You know, when Mal came back into the picture and it was clear Alina (still) had feelings for him, I put the book down for a second, looked at the ceiling and shouted (in my head only, of course — I'm not that mad. Yet.): "CURSE LOVE TRIANGLES" because I believed that was what was happening. But I don't think you could actually call this a love triangle, no. Just see, uh read, for yourself, because I can't explain this.
Another thing I had to smile about were the kind-of German names or phrases. I don't know if Bardugo mixed up German and Russian, but Verloren is German for "Lost", and "Goed morgen" sounds suspiciously like "Guten Morgen", which is Good Morning. That was nice, I guess, considering I am a proud, patriotic German (No, I'm not a nazi. Just proud of my country right now).
Things I didn't like: The way things turned out in the second half of this book because of romance-y reasons, and the fact that this book was so fast paced you never had a chance to take a breath. I already mentioned I read this in, dunno, maybe 9 or 10 hours. I read about 40 pages in the evening when I went to bed, started again as soon as I was up and finished at once. Some things seemed a little squeezed together, like Alina's time at the Little Palace, training her Grisha powers. She spent, like, five months or so there and sometimes she would rattle off the routines of two weeks in one paragraph or something like that. It irked me a little, but it wasn't too bad.
All in all, it was a book I enjoyed very, very, VERY much and I can really recommend it to everyone who wants to read something fresh and truly interesting, as well as something vivid and action-packed with a strong heroine, overall likeable characters, amazing plot with fantasy elements and a little sprinkle of romance on top of that.
This book had me literally squealing like a little, 10-year old fangirl, swooning over the characters, gaping at the pages because of shocking plot twists and actions and all the things good books make you do. Really good books make you do. I am definitely coming back for more and can't wait for the next book.