Wintergirls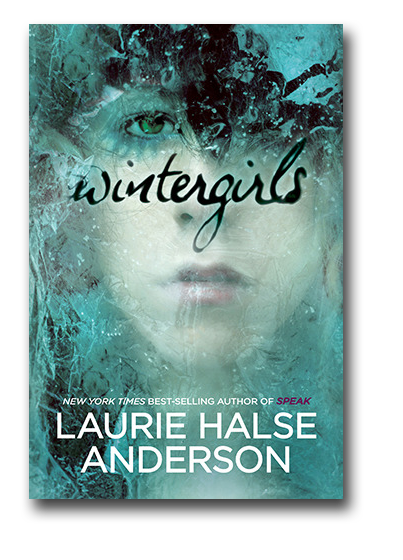 Author: Laurie Halse Anderson
Genre: Contemporary, Eating Disorder, Depression, YA
Plot:
"Dead girl walking," the boys say in the halls.
"Tell us your secret," the girls whisper, one toilet to another.
I am that girl.
I am the space between my thighs, daylight shining through.
I am the bones they want, wired on a porcelain frame.
Lia and Cassie are best friends, wintergirls frozen in matchstick bodies, competitors in a deadly contest to see who can be the skinniest. But what comes after size zero and size double-zero? When Cassie succumbs to the demons within, Lia feels she is being haunted by her friend's restless spirit.
In her most emotionally wrenching, lyrically written book since the multiple-award-winning Speak, Laurie Halse Anderson explores Lia's descent into the powerful vortex of anorexia, and her painful path toward recovery.
Review:
I knew this was going to be a troubling read for me going in, but I just wanted to go and actually read an eating disorder book, I've been wanting to for a long time, and I picked Wintergirls to be the first.
I am no stranger to eating disorders. They are horrible, the worst, because they never ever leave you. Every single day, you wake up, put on your armor and go to war. I think Anderson's portrayal of the disease was spot on and accurate to a T, she really captured the essence of anorexia and that was very well done.
I also liked how she portrayed Lia's overall mess of emotions and feelings, how she is secretly craving to eat food but denying herself anything, which I think a lot of people tend to overlook; it's not that anorexic people really aren't that hungry or don't want to eat (unhealthy) foods, it's simply that we push them away from us. A lot of times I felt like I was reading from Juliette's POV from
Shatter Me
, which wasn't necessarily a bad thing, but it was a little disconcerting. I guess it's my fault though, since this was published before
Shatter Me
. Anyway, the whole messy, jumbled thoughts thing was wonderfully executed, it wasn't too heavy and too "philosophical" like with Juliette, but just right to bring across what goes on in an anorexic's head.
(At least I thought so.)
However, the big breaking point of the book was that nothing happened. Absolutely nothing that would be worth noting, it was all really trivial stuff that was boring and lame. I do still want some kind of plot even if I am primarily reading about eating disorders. There was something like a murder mystery going on and I think that was supposed to be the main focus of the plot, but not a lot happens in that department. Just, the whole book was slow and dull.
Overall, if you want a look into the mind of a person with an eating disorder, if you want to try and understand what goes on with someone like this because you can't fathom how you could get this way: This is the perfect book to get a pretty good idea. However, it might get tedious after a little while because there really isn't much else going on.