The Lovely and The Lost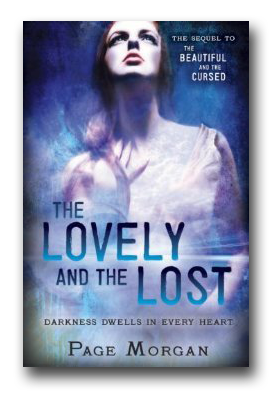 Genre: Historical, Supernatural, Gargoyles, YA
#2 in the Dispossessed trilogy
Plot:
Ingrid and Gabby survived the Underneath. They saved their brother, Grayson, from a future of dark servitude and exposed a plot to undermine the Alliance. But danger still lurks in the streets of Paris, and the Dispossessed, perched on the city's bridges and rooftops, might not be able to save their human wards this time.
Review:
There are no words to adequately describe how thoroughly I enjoy this series. It's honestly been a while since I have really taken my time to read a book because I really wanted to appreciate it.
In a way, this trilogy reminds me a bit of The Mortal Instruments to be honest, since there are so many characters and they're all intertwined in one way or another, each with their own story arcs, their own relationships and so on, but it's all done a little better. You see, most of the relationships and stuff just felt a little forced in The Mortal Instruments, like they had to be so that every character would have a happy side plot with their significant other and while I'm not denying that at least one of the relationships in here is that way too, I still think it's organized a lot better.
And not only the romantic relationships! Oh, no, no, the platonic and family relationships are almost even better executed and fill me with joy. Seriously. The way Luc and Gabby interact in a sibling fashion, bantering and bickering but still trusting each other wholly, is simply so fulfilling to read about since there are so little of these entirely platonic but well meaning friendships, and it's especially nice with their background; also, that the parents and the staff are in on the secret and also caught up with it. Seeing Ingrid's mom help her sneak out to get her lightning lessons was so heartwarming, I wish there were more YA series that involve the parents more. That's part of why I love Teen Wolf so much, and it's always nice seeing it happen once in a while.
Of course, the characters themselves are well-rounded as well, but we already know that back from my review of the first book. Ingrid is developing into an even better young lady, I seriously love this girl so much since she is capable of making smart and wise decisions, while also being able to save herself and realizing that she can save herself.
"Because she was going to die. There was no one coming for her now. [...] The only person who could save her was her."
Gabby got even more kickass and I wanted to punch everyone who talked about getting surgery or her scars. Dickbags.
Anyway, this was also an absolutely great sequel book, since everything that might not have been very well fleshed out and could have done with a bit more development in the first book got that in this installment. I finally know enough about Luc and Grayson, about the Alliance and just, everything. It was all handed to me in scraps during the course of the novel and now, at the end, I love it so much more.
As to plot, it was still very refreshing as well. For one short moment I was afraid that Morgan would recycle book 1 and use the exact same end climax again, but luckily that didn't happen, and instead I got a really nice, new ending that was satisfying in and of itself, but still left a hundred loose threads for the next book to pick up. I honestly can't wait to see how it will all play out, because I have no clue whatsoever how this mess could be sorted out and it unnerves me.
The Wondrous and the Wicked sounds like a great title for a final installment, and, needless to say, I am eagerly awaiting it. This is a unique and intriguing new trilogy that is most definitely way underrated.