Fragments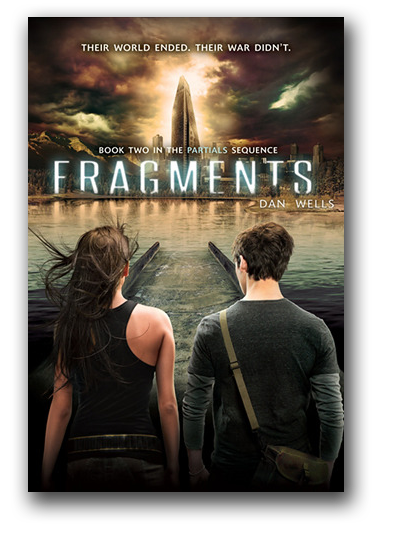 Release: February 26th 2013
Genre: Dystopia, Post-Apocalypse, Science Fiction, YA
#2 in the Partials Sequence
Plot:
Author Dan Wells is back with the sequel to the sci-fi blockbuster Partials, which Pittacus Lore called a "thrilling sci-fi adrenaline rush, with one of the most compelling and frightening visions of Earth's future I've seen yet."
After discovering the cure for RM, Kira Walker sets off on a terrifying journey into the ruins of postapocalyptic America and the darkest desires of her heart in order to uncover the means—and a reason—for humanity's survival.
Dan Wells extends his richly imagined, gritty world and introduces new memorable characters in this second installment in the Partials Sequence.
Review:
I don't know why, but I always seem to think exactly the opposite of what the general public says about sequels. Usually, if people liked them better, I liked them less; did they like them less, I liked them better.
The latter is the case with this one, I was really wary of the number of pages of this sequel, not because I think roughly 600 pages is long, but I was sure that it would drag in places, as so many others have said before me. However, personally I didn't find that to be a huge issue, the beginning was a little hard to adjust to, but once you really got into the whole world and the plot, it was hard to get out of, actually. In fact, I stayed up way past my bedtime on an exam night, because I could not stop reading, it was so engrossing.
I will admit that the changing POVs threw me off once or twice as well, but Wells did it quite cleverly. Usually, authors are so cruel as to switch POV right when something really exciting happened. Like, there's some kind of attack happening? Right, let's go see what that other character's doing! But no. This did happen, but rarely, and so I never really had to urge to skip another POV sequence to find out what happened with the one I'm currently reading.
About this, I also thought that each of the individual character storylines were interesting enough to merit their own chapters, we essentially follow Kira, who teams up with Samm and Heron soon after the book's exposition, who is crossing the US to get answers, and Marcus, who's still sitting around Long Island. There are other minor POVs that get like one sequence or two, and weren't unnecessary either, so I didn't mind them. But the two main POVs were both interesting enough and the overall plot wasn't as convoluted anymore, it was much more structured, which ultimately made me enjoy this installment more than I did Partials. I should also mention that I finally saw these post-apocalyptic struggles and landmarks, like toxic wasteland, scarce resources, disease etc.
As for characters, I think they've improved a lot in this novel, too. I finally got around to more or less liking Kira, she still has that aggravating selflessness (which actually gets an explanation, however, I still dislike it), but all in all, she gets much more rational and reasonable about it. She's faced with hard decisions and has to face the regrettable outcomes her actions might bring — there was struggle within her and it was well done. Marcus, too, got more character development, I feel like he's finally his own man. Before, I only saw him as a more or less pawn that's only there to be Kira's boyfriend, but he finally got more purpose, due to his being a main POV character. The other main and supporting characters were also fleshed out, I greatly enjoyed how Samm's slowly learning more about humans and human interaction, and even he has to think about his attitude and come to new conclusions about his world view.
Which reminds me, can I just say I absolutely love the romance? Because I do. It plays such a small little part of these books, so whenever there is a scene where Kira thinks about her feelings for Samm or something like that, it's always ... precious, I think. If it's rarer, it's automatically more valuable and it means so much more. Plus, she acknowledges that things like feelings and emotions don't really play a major role in what's happening, which is true and it's so refreshing to see a YA heroine realize that love is not everything when the world is facing the ultimate end for once. Anyways, aside from that, they also had tangible chemistry and I just really, really loved their relationship and interactions. Nicely done, Wells.
All in all, a successful sequel in my opinion that managed to outshine its predecessor and now really makes me want to read on with the series, which I will. These 600 pages literally flew right by, despite my expectations — maybe it was because I had so many doubts and little expectations, but ... in the end, I immensely enjoyed Fragments.