Rebel Belle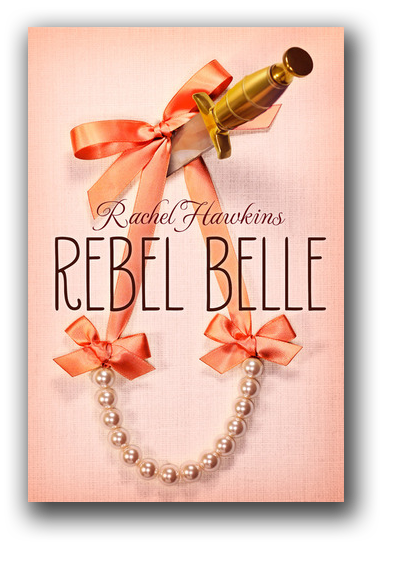 Genre: Paranormal, Urban Fantasy, Contemporary, YA
#1 in the Rebel Belle trilogy
Sequels: Miss Mayhem (#2), Lady Renegades (#3)
Plot:
Harper Price, peerless Southern belle, was born ready for a Homecoming tiara. But after a strange run-in at the dance imbues her with incredible abilities, Harper's destiny takes a turn for the seriously weird. She becomes a Paladin, one of an ancient line of guardians with agility, super strength and lethal fighting instincts.
Just when life can't get any more disastrously crazy, Harper finds out who she's charged to protect: David Stark, school reporter, subject of a mysterious prophecy and possibly Harper's least favorite person. But things get complicated when Harper starts falling for him--and discovers that David's own fate could very well be to destroy Earth.
With snappy banter, cotillion dresses, non-stop action and a touch of magic, this new young adult series from bestseller Rachel Hawkins is going to make y'all beg for more.
Review:
WHAT WAS THAT? WHAT WAS THAT?!
Oh man, that ending was just seriously a punch in the gut. What even. I still can't believe she actually dared do that. It was completely awful and cliché but also brilliant and really well done and .... wow.
Let me start off that this didn't remind me as much of Hex Hall as I originally thought it would. I did see the similarities here and there, but Hawkins actually managed to make this novel stand out on its own and not sound like her other one, like certain other authors. And while I did miss that sometimes during the course of the novel, since I was really looking forward to all the hilarity and fun of Hex Hall, I still think that Rebel Belle was stellar in its own way.
It was still funny and stuff, but Harper Price was, admittedly, not as badass and entertaining as Sophie, and was, in fact, a bitch a lot of the time. However, she still crept up on me over time and by the end of the novel, I can safely say that, even though she's not Sophie and I like Sophie better, Harper is still a pretty dang nice heroine who can stand up for herself, kick some serious butt and be overall awesome.
The other characters were brilliant too by the way. Yeah, Brandon and Bee were very much on the sidelines and seemed to play very minor roles compared to how important they're made up to be in the novel, and so they didn't really get much of a character arc or anything like that. Didn't bother me too much though, because the remaining cast of characters were made up to be really great, with nice characterizations and personalities and, you know, good stuff. I liked that they were so nicely fleshed out, especially Ryan. I think the dude was brilliant, because he took all of it in stride and still managed to not be a complete dickbag. You rock.
The relationships were also surprisingly well done. I was pretty anxious at first that it was all going to spiral downwards into the fiery pits of the everlasting fire, BUT NO. I liked how Harper's friendship with Bee wasn't just pushed off into the sidelines in favor of other things, Also, Harper and Ryan's crumbling relationship was handled excellently. It wasn't overly dramatic, but it was just right. And, you know, simply felt real, which enabled me to sympathize a lot more. I could go on talking about how much I loved Harper's relationships with Saylor and David as well, but let's just leave it at this: Hawkins built up some seriously nice relationships here.
Oh and yeah, the plot was extremely unique and awesome. Paladins, Mages, Oracles ... I mean, maybe it's not that uncommon, but it isn't something that I have come across very often and haven't read too many books about. So, Rebel Belle was a real gold mine for me in a way, since this is stuff that I am deeply interested in and could spend months reading about. And playing in video games.
All in all, while it did have its flaws, its clichés and overall shallowness, this novel is crazy enjoyable and a fast paced read. I flew through it once I actually had the time to sit my ass down and read for more than a few minutes, and finished it in a day basically. This one will draw you in right away from the get go if you let it, and it will be worth every single minute. Trust me.