Looking for Alaska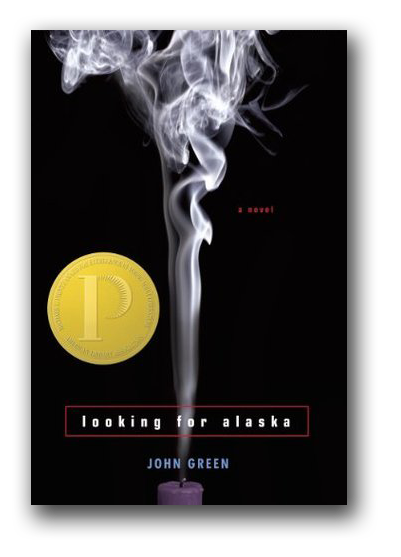 Plot:
Before. Miles "Pudge" Halter's whole existence has been one big nonevent, and his obsession with famous last words has only made him crave the "Great Perhaps" (François Rabelais, poet) even more. He heads off to the sometimes crazy, possibly unstable, and anything-but-boring world of Culver Creek Boarding School, and his life becomes the opposite of safe. Because down the hall is Alaska Young. The gorgeous, clever, funny, sexy, self-destructive, screwed-up, and utterly fascinating Alaska Young, who is an event unto herself. She pulls Pudge into her world, launches him into the Great Perhaps, and steals his heart.
After. Nothing is ever the same.
Review:
Yes, I know, I know — I'm pretty late to the party, aren't I? This book has been sitting on my shelf, unread, for well over a year now when yesterday, I was in the mood for a nice, cutesy contemporary and decided to pick it up, because hey, it's contemporary, I thought it was cutesy and it was only 200 pages.
I am not a contemporary person, many of you know this and I can't say it enough times. I simply do not really enjoy contemporary, so it is very rarely that I am actually in the mood for one. I was though, and I will say that Looking for Alaska is, at times, a little moody and strange, just as its namesake character. Which is probably what John Green intended, but it did throw me off a couple times. Nevertheless, I read the first half in one sitting, and finished the second half in one sitting as well, so even though I wasn't deeply immersed in the happenings of the story, I still very much enjoyed myself.
I really liked the characters because they had something unique to them and an air of ... I don't know what to call it, I'd almost say they were exotic. At least, to me they were. I know that there are a hundred Pudges out there, and most definitely a lot of Laras, but somehow, I just thought these characters had flair. They were well fleshed out, especially considering they had to be built up and characterized well enough within 200 pages, and I felt like I was actually there with them, dicking around and throwing away time and money. I appreciated it.
Now the plot is usually the deal breaker for contemporaries, because I read books to leave reality behind me for a while, to escape into fantastic worlds where epic battles happen, where you can slay dragons etc, and contemporaries just don't give me that option. However, as I already mentioned, the crew's junior year at Culver Creek was made up of entirely boring and ordinary occurrences that still managed to make me yearn for my own Greater Perhaps, made me smile at their idiocy and feel bad for them when they got caught. In that, John Green achieved the (almost) unachievable, making me enjoy the plot of a contemporary in its all-out normal contemporaryness.
To sum it up, it didn't beat Anna and the French Kiss for my favorite contemporary, but I did enjoy this one more than I did The Fault In Our Stars to be quite honest, and it's only my second (!) John Green book. Shame on me, yeah, but I'm considering checking his other books out as well now. I admire him as a person, he's such a great guy, and his writing is simply to die for, it's so captivatingly beautiful. I think I could, maybe, manage to crawl through some contemporaries for his sake.
PS: Did anyone else catch that the stoner guy was called Hank? ... Did John just create a stoner guy and call him after his brother? And if so, what does that mean?