The Rose Society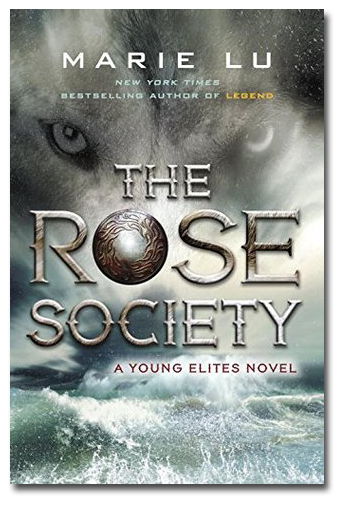 Release: October 13th 2015
Genre: Fantasy, Magic, YA
#2 in the Young Elites trilogy

Plot:
Once upon a time, a girl had a father, a prince, a society of friends. Then they betrayed her, and she destroyed them all.
Adelina Amouteru's heart has suffered at the hands of both family and friends, turning her down the bitter path of revenge. Now known and feared as the White Wolf, she flees Kenettra with her sister to find other Young Elites in the hopes of building her own army of allies. Her goal: to strike down the Inquisition Axis, the white-cloaked soldiers who nearly killed her.
But Adelina is no heroine. Her powers, fed only by fear and hate, have started to grow beyond her control. She does not trust her newfound Elite friends. Teren Santoro, leader of the Inquisition, wants her dead. And her former friends, Raffaele and the Dagger Society, want to stop her thirst for vengeance. Adelina struggles to cling to the good within her. But how can someone be good when her very existence depends on darkness?
Review:
I know, I know — everybody loves this book, this trilogy, Marie Lu herself. I'm the odd man out, I realize that. I just don't see the appeal, I don't. Her books are not for me, it seems.
Honestly, I don't even know what to rate this. I think I'll just forever withhold my stars from this one, because my feelings are all over the place. I didn't hate it. I didn't like it. It just made me feel so empty and just ... nothing. There was nothing. It didn't engage me emotionally AT ALL.
Ever since it came out, which was back in freaking October, thus
six months ago
, I have been "reading" this. I put air-quotes around reading because for this long,
The Rose Society
has been my go-to in-between book. By which I mean, whenever I didn't really know what to read next, and was biding my time until I found something appealing and/or some new sequel I was excited for came out, I read this one. I always read maybe a chapter or two, never settling down for it because I never felt ready to commit to it. As time went on, a few days ago I suddenly realized that by reading a little all the time, I slowly made my way to 75% through.
75% through
and I didn't even notice, because I always ingested it in such small dosages and all that. That's when I gathered my wits about me, sat down for two hours and simply finished it.
It was not pleasant.
Reading this novel, even if I only read one single chapter, made me want to fall asleep. It never captured my interest, not once. Not even during the action scenes, not even when characters died or had panic attacks or whatever have you. It left me completely cold.
And that's pretty much all I have to say about it. I might read the final book, just to see how it's going to play out, because I do like the premise. I love the premise. Reading from the villain's perspective, basically, and I simply want to see if, at the end, Adelina will fall or stand her ground. But the way to finding that out is ... tedious. I might do it. I might not. We'll see.