Map of Fates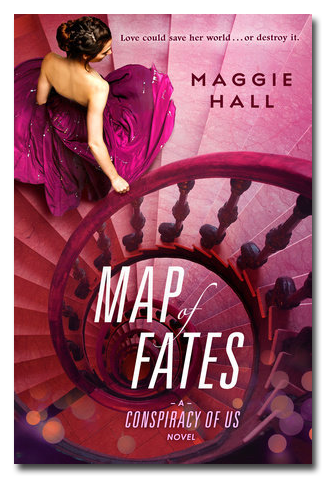 Genre: Contemporary, Mystery, YA
#2 in the Conspiracy of Us trilogy
Plot:
Two weeks. 


That's how long it took for Avery West's ordinary life to change forever: In two weeks, she discovered she was heiress to a powerful secret society known as the Circle, learned her mother was taken hostage by the Circle's enemies, and fell for a boy she's not allowed to love, just as she found out another was her unwelcome destiny. 


Now, Avery crosses oceans in private jets to hunt for clues that will uncover the truth about the Circle, setting her mom and herself free before it's too late. By her side are both the boys: Jack—steady, loyal, and determined to help her even at the expense of his own duty—and Stellan, whose connection to Avery grows stronger by the day despite her best intentions, making her question what she believes at every turn.


But at the end of a desperate hunt from the islands of Greece to the red carpet at Cannes comes a discovery that not only changes everything, but could bring the whole world to its knees. And now Avery is forced to face the truth: in the world of the Circle, no one is what they seem.
Review:
Guys, I really, really liked this one. I feel like this sequel has matured so much more than the first one, it didn't have all of the awkwardness anymore, the writing was tons better and the plot itself was much more ... uhm, reasonable. It even made fun of the extremely catastrophic beginning of the first one, with this piece of dialogue:
"When I first met you," Stellan said again, sleepily. "I thought you were an idiot. (...) Who gets on a plane with a stranger who just pulled a knife on her?" he said. "What is wrong with you? I could have been a serial killer."
A+ scene.
The plot starts to thicken, the twists were surprising and unexpected and completely threw me off, the clue-gathering was interesting and enough to keep the tension rolling, all in all, the story in and of itself was pretty well-rounded.
What made the book even better, though, is the characters. We get to know so much more about Stellan, who was a pretty mysterious and unknowable character in the first novel, but finally, the veil is lifted and turns out, he's not as bad as I thought he was. Actually, he's probably the best character this trilogy has to offer, because his characterization is simply so compelling, intriguing and well-written. Avery starts to take more matters into her own hands and she is determined to find what she is looking for and save her mother. Not once does she really give up, she showed such strength of character I couldn't help but root for her to finish her quest and be victorious. Then there's Elodie, whom I don't even remember that much about from
The Conspiracy of Us
, but who turned out to be such a badass; I am really happy that she played such a huge role in this book, because without her, the gang definitely wouldn't have gotten as far as they did. The only character falling kind of through was Jack, which wasn't too much of a surprise for me. I thought he was okay in the predecessor novel, because he at least wasn't so much of a jerk and was an all around alright character, in this sequel, however, he just becomes a controlling dick with almost no character development at all.
Which sort of brings me to the love triangle, which I also — very surprisingly — ended up liking, too? I mean, I have always been a supporter of the, I like to call it, "second lover" trope. Like, when the character in a love triangle doesn't end up with the first person they fell in love with, but rather the second one. The one who wasn't "the first love" or anything. It's just unrealistic to fantasize about staying with your first sweetheart forever, because almost no one does, so I am a fan of portraying life as it is: You fall in love more than once, and you fall out of love as well. Actually, now that I think about it, I'm not sure whether this isn't a huge spoiler, but then again, nothing is certain yet. And as 100% expected, as is usual for trilogies with love triangles, is that the main character normally gets much closer to the second person in the triangle in the middle book, only to end up with the first person from the first book in the last one anyway. As of right now, it looks like Stellan has a real fighting chance for Avery's heart and I really, truly hope that she'll end up with him over Jack in the next book.
Anyway, that's all there is for me to say. I am eagerly awaiting the final novel because this one managed to convince me that this is, after all, a pretty nice series.