2014 READING STATS
NUMBER OF BOOKS YOU READ.
150.
Which would be exactly five more books than I read last year.
And
50 books over my set goal of 100. Success!
NUMBER OF REREADS.
0. Yup. I did not re-read anything this year, which is also a first for me. I just didn't have the time, and lately I've been thinking more and more along the lines of "Why waste time re-reading something I still remember in excruciating detail when I could be reading something completely new?" because yes, for most of my favorite novels, I
do
remember every tiny little thing. I have terrific memory.
GENRE YOU READ THE MOST FROM.
Honestly, I think paranormal/supernatural. My favorite is definitely fantasy, but I actually haven't read as many fantasy novels this year as I would have liked to. I'll definitely have to remedy that next year and get to work on all the fantasy novels I want to read.
BEST IN BOOKS
I. BEST BOOK YOU READ IN 2014?
A really tough one, because to be completely honest, there weren't all that many books I truly enjoyed, but I gotta hand it to
Blue Lily, Lily Blue
by Maggie Stiefvater.
II. BOOK YOU WERE EXCITED ABOUT AND THOUGHT YOU'D LOVE BUT DIDN'T?
Ruin and Rising
by Leigh Bardugo. One of my most anticipated books of the year, but it sorely let me down...
III. MOST SURPRISING (IN A GOOD OR BAD WAY) BOOK YOU READ IN 2014?
I'm gonna give this one to
Snow Like Ashes
by Sara Raasch, because as a debut author, she managed to completely win me over with her fantasy novel.
IV. BOOK YOU 'PUSHED' THE MOST PEOPLE TO READ (AND THEY DID) IN 2014?
The Raven Cycle by Maggie Stiefvater. I will always be promoting this baby. Hey, what was that? You haven't read that one yet? DO IT. GO. NOW!
V. BEST SERIES YOU STARTED IN 2014? BEST SEQUEL OF 2014? BEST SERIES ENDER OF 2014?
Best series I started, probably The
Arkwell Academy
trilogy, starting with
The Nightmare Affair
by Mindee Arnett, actually. It's fun and innocent, while also well done and I really like it.
Best sequel, phew. Can I say
Blue Lily, Lily Blue
again? No? Okay, I'll go with
The Perilous Sea
by Sherry Thomas, then.
Best series ender definitely
The Retribution of Mara Dyer
by Michelle Hodkin. So worth the long wait.
VI. FAVORITE NEW AUTHOR YOU DISCOVERED IN 2014?
Sarah Rees Brennan, because only this year did I start to really appreciate her Lynburn Legacy trilogy and I am definitely planning on reading her Demon's Lexicon trilogy as soon as possible as well. She's also really funny and cool, judging by her tweets and stuff.
VII. BEST BOOK FROM A GENRE YOU DON'T TYPICALLY READ/WAS OUT OF YOUR COMFORT ZONE?
For this I'll go with a contemporary, 'cause those are usually not my thing at all and I'm going to choose
Fangirl
by Rainbow Rowell. Yes, I know you're sick to death of hearing about this book, but especially after my epic fallout with her
Eleanor & Park
, I was really surprised by how much I ended up liking
Fangirl
.
VIII. MOST ACTION-PACKED/THRILLING/UNPUTDOWNABLE BOOK OF THE YEAR?
Humph.
Partials
, or rather the whole Partials trilogy by Dan Wells. Those books are like 1000+ pages in all, but I literally devoured them over the course of, like, three or four days. Week days, meaning I still had to go to school in the mornings and go to sleep early (or, "early" since the books kept me up at night).
IX. BOOK YOU READ IN 2014 THAT YOU ARE MOST LIKELY TO RE-READ NEXT YEAR?
Since I'm not sure I can, or want to, break my new mind set about re-reads that I already explained earlier, I don't really know ... but if any, it'd probably be
Blue Lily, Lily Blue
. Of course.
X. FAVORITE COVER OF A BOOK YOU READ IN 2014?
This so obviously just
has
to go
A Thousand Pieces of You
by Claudia Gray. Have you
seen
that cover? It's so, so breathtakingly gorgeous. Whoever designed it deserves a fucking medal, or award, or some sort of recognition. Seriously.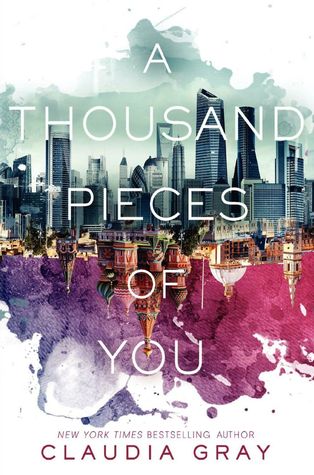 XI. MOST MEMORABLE CHARACTER OF 2014?
For the sake of not being overly repetitive, and because favorite characters don't really count I think, I'll hand it to
Meda
of
Cracked
by Eliza Crewe. She was badass, unique and just ... a breath of fresh air in a sea of heroines who always seem to be the same breed. She was different, and I loved her.
XII. MOST BEAUTIFULLY WRITTEN BOOK YOU READ IN 2014?
The very first book, or rather novella, I read in 2014 was
Night of Cake and Puppets
by Laini Taylor, and if you know me, you know that I am such a sucker for her writing. So I'm gonna say that and
Dreams of Gods and Monsters
by her as well. She's such a talented writer, goddamn.
XIII. MOST THOUGHT-PROVOKING/LIFE-CHANGING BOOK OF 2014?
Slated
by Teri Terry. I don't know why to be perfectly honest, but the book managed to make me cry a little because of how raw it was. It taught me a thing or two about family and friends.
XIV. BOOK YOU CAN'T BELIEVE YOU WAITED UNTIL 2014 TO FINALLY READ?
Macbeth
by Shakespeare ... I'm a huge fan of his work and I'm slowly working through it.
XV. FAVORITE PASSAGE/QUOTE FROM A BOOK YOU READ IN 2014?
a) "Embellish your flaws. They will turn into your assets." —
The Young Elites
, Marie Lu
b) "Bros before hoes," said Jared. "By which of course I mean gardening tools, because I hold all the fine ladies of Sorry-in-the-Vale in the highest regard." —
Unmade
, Sarah Rees Brennan
c) "There was something unfamiliar about him. Something ferocious about his eyes, some sort of bite in his faint smile. Something altogether hectic and unsettled. She stood on the ledge of his smile and looked over the edge." —
Blue Lily, Lily Blue
, Maggie Stiefvater
XVI. SHORTEST AND LONGEST BOOK YOU READ IN 2014?
15 pages of
No Intention of Dying
by Lauren DeStefano as my shortest (and, in relation, also the most expensive!), as my longest, it's
A Feast For Crows
by George R. R. Martin with 976 pages, with
Eona
on its heel with 637 pages.
XVII. BOOK THAT SHOCKED YOU THE MOST?
Uhm. Probably
Gone Girl
by Gillian Flynn.
XVIII. OTP OF THE YEAR (YOU WILL GO DOWN WITH THIS SHIP!)
There's no one couple I could pick, I'll have to choose multiple ones. Well, there is Elliott and Araby from the
Masque of the Red Death
duology by Bethany Griffin, as well as Rory and Stephen from Maureen Johnson's
Shades of London
, Tristam and Kyra from
Midnight Thief
by Livia Blackburne and, of course, Titus and Iolanthe from Sherry Thomas'
Elementals
trilogy.
XIX. FAVORITE NON-ROMANTIC RELATIONSHIP OF THE YEAR?
Sir and Meira from
Snow Like Ashes
by Sara Raasch. Also, Miki and Carly from Eve Silver's
The Game
trilogy.
XX. FAVORITE BOOK YOU READ IN 2014 FROM AN AUTHOR YOU'VE READ PREVIOUSLY?
Rebel Belle
by Rachel Hawkins!
XXI. BEST BOOK YOU READ IN 2014 THAT YOU READ BASED SOLELY ON A RECOMMENDATION FROM SOMEBODY ELSE?
Fangirl
by Rainbow Rowell. I read it just because Tori forced me to.
XXII. NEW FICTIONAL CRUSH FROM A BOOK YOU READ IN 2014?
Ugh. That's hard. Can I just say that, impossibly, my love for Gansey has deepened
even more
after
Blue Lily, Lily Blue
?
XXIII. BEST 2014 DEBUT YOU READ?
Again, I have to go with
Snow Like Ashes
by Sara Raasch. But, for the sake of bringing in some fresh meat,
The Strange and Beautiful Sorrows of Ava Lavender
by Leslye Walton.
XXIV. MOST WORLD-BUILDING/MOST VIVID SETTING YOU READ THIS YEAR?
I know I just read it a few days ago, but ...
This Shattered World
by Amie Kaufman and Meagan Spooner. The planet of Avon was so well developed and described, I felt like I'd been living there for at least two years as well.
XXV. BOOK THAT PUT A SMILE ON YOUR FACE/WAS THE MOST FUN TO READ?
Isla and the Happily Ever After
by Stephanie Perkins. I know, I know, I'm kind of cheating with this one because I didn't actually finish it in 2014, but I started it and got to, like, 50% and during that first half I was constantly smiling like an idiot.
XXVI. BOOK THAT MADE YOU CRY OR NEARLY CRY IN 2014?
Like I said,
Slated
by Teri Terry managed to make a tear escape from my eyes, so did
Dreams of Gods and Monsters
by Laini Taylor,
Evertrue
by Brodi Ashton and obviously
Blue Lily, Lily Blue
. Oh, and
Unmade
by Sarah Rees Brennan.
XXVII. HIDDEN GEM OF THE YEAR?
I want to say
Trial by Fire
by Josephine Angelini, because I really thought that book was going to be so bad, only to find that it wasn't that at all. On top of that, I want to list
The Beautiful and the Cursed
by Page Morgan because nobody seems to know about that trilogy but it's amazing.
XXVIII. BOOK THAT CRUSHED YOUR SOUL?
Again, let me tell you about this book named
Blue Lily, Lily Blue
. It's heartwrenchingly agonizing, but it's a good kind of pain. Until it isn't. Give me P back.
XXIX. MOST UNIQUE BOOK YOU READ IN 2014?
Uhm.
Give a Boy a Gun
by Todd Strasser.
XXX. BOOK THAT MADE YOU THE MOST MAD?
See Me
by Wendy Higgins. Although, maybe not mad, more like ... desperate.
LOOKING AHEAD
I. ONE BOOK YOU DIDN'T GET TO IN 2014 BUT WILL BE YOUR NUMBER ONE PRIORITY IN 2015?
Tolkien's works. I want to get started as soon as I can. So hopefully in the next few days!
II. 2015 NON-DEBUT YOU ARE MOST ANTICIPATING?
Passenger
by Alexandra Bracken,
Tell The Wind and Fire
by Sarah Rees Brennan,
A Darker Shade of Magic
by Victoria Schwab and
Six of Crows
by Leigh Bardugo.
III. 2015 DEBUT YOU ARE MOST ANTICIPATING?
5 to 1
by Holly Bodger,
The Girl at Midnight
by Melissa Gray and
An Ember in the Ashes
by Sabaa Tahir.
IV. SERIES ENDING/A SEQUEL YOU ARE MOST ANTICIPATING IN 2015?
The
fourth
and final
Raven Cycle
book by Maggie Stiefvater,
End of Days
by Susan Ee,
Burning Kingdoms
by Lauren DeStefano and
Catalyst
by Lydia Kang.
V. ONE THING YOU HOPE TO ACCOMPLISH OR DO IN YOUR READING/BLOGGING IN 2015?
Get out of that goddamn reading slump.
VI. A 2015 RELEASE YOU'VE ALREADY READ AND RECOMMEND TO EVERYONE?
... Uhm. I haven't yet. Sadly.