Throne of Glass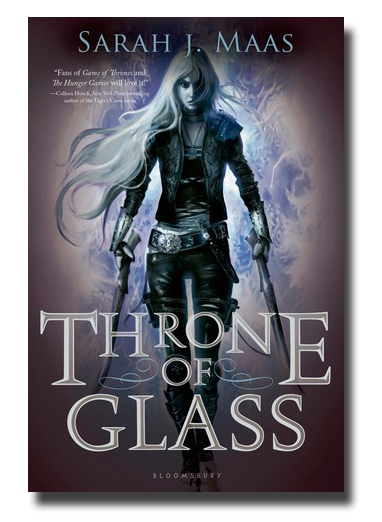 Genre: Fantasy, Magic, Mystery, YA
#1 in the Throne of Glass series
Sequels: Crown of Midnight (#2), Heir of Fire (#3), Queen of Shadows (#4), Untitled (#5, #6)
Plot:
In a land without magic, where the king rules with an iron hand, an assassin is summoned to the castle. She comes not to kill the king, but to win her freedom. If she defeats twenty-three killers, thieves, and warriors in a competition, she is released from prison to serve as the king's champion. Her name is Celaena Sardothien.
The Crown Prince will provoke her. The Captain of the Guard will protect her. But something evil dwells in the castle of glass--and it's there to kill. When her competitors start dying one by one, Celaena's fight for freedom becomes a fight for survival, and a desperate quest to root out the evil before it destroys her world.
Review:
Throne of Glass falls right in line behind books such as Eleanor And Park and Unspoken — books that everyone else has been praising to heaven and back, but I have immensely disliked.
What I expected from this: awesome and kickass heroine, epic fantasy world, action and adventure, allure.
What I got: court intrigue, relationship drama, unlikeable characters and an unbelievable, shitty world thrown at my feet.
I'll start with characters, because it's what annoyed me the most. Precisely, Celaena is what annoyed me the most. Because this girl was so unbearable, and so unlikeable, I think she's right there on top of the list of heroines that I cannot stand. She was rude, obnoxious and unpleasant in every way. While I would expect the most feared assassin in the whole kingdom to be a smartass, I didn't like her temperament at all. I really, really prefer the more decent and silent snark, insulting people cleverly and indirectly instead of downright being bitchy and insulting everyone. Literally, everyone, because this girl didn't stop at nothing. And she can't even back her sharp tongue up with a spine for it, because she's a gullible mess when it comes to her love life. She even says so herself:
"How had she gone from the most feared prisoner in Endovier to this sappy mess?"
Excellent question, I'd like to know as well. She was simply unbelievably arrogant with absolutely nothing to show for it.
Let's look at the other characters. Dorian, for example, who was the handsome princeling of the story, being surrounded by a mass of ladies vying for his attention. He was a d-bag, such a massive, immense d-bag even I was impressed. He's a damned sexist pig and I wouldn't be surprised if he's going to rape everyone in the sequels. Seriously, hide your children, hide your wife, hide your everything from this man 'cause he'll wink and make sexual innuendos at everything that hasn't climbed on top of a tree on three. He got better later on when he fell for Celaena (why he does that though is beyond me because she's so freaking unlikeable), but still. Chaol was decent, although he seemed to have no particular personality whatsoever outside of the stoic, brooding guy archetype. That foreign princess was an okay character, though, because she had a spine and she actually had some impressive shit at her disposal without gloating and being stuck up about it.
Now, onto world building. Are we actually going to call this "High Fantasy"? Because that would simply be an insult to the genre. There was a map at the beginning of the novel, and with only that, we're supposed to know everything about this country right the fuck away. Names were being thrown around, of kingdoms, of cities, of provinces, and I was simply confused. Now, of course I could have bothered to ask the map for guidance, but seriously? Just giving a map that tells us where everything is isn't helping. I have been assaulted with names and nothing more, there wasn't ever any background information on any of the provinces except for a clear history on how the current king conquered every province, especially some land called Terrasen which is Celaena's homecountry and in the process of this he also killed everything magic related, all the wizards and libraries and Fae and whatnot. Apart from that, it's all just a bunch of names that don't mean anything to me and thus, become totally irrelevant. And I couldn't even tell until a hundred pages in what name was city, what name country and what name province. Please, explain a bit more, Maas.
Arrgghh the writing. The writing! There were a lot of exclamation marks at the end of sentences! That's probably why I felt like I was either constantly being made fun of! Or that I was reading a children's book! I couldn't decide which! No, seriously, the passive aggressive use and sheer amount of pointless exclamation marks was ridiculous. Don't... just don't. Aside from that, this was meant to be kind of medieval-ly, was it not? Kingdoms, handsome princes and princesses, courts, corsets and dresses, knights in shining armor ... Well, Maas did a very, very poor job at creating the proper atmosphere for that. Not only was the writing itself unsuitable for the time period, the dialogue was simply disastrous. I don't have proof, but I find it extremely unlikely that folks in medieval times used phrases such as "you're a pain in the ass" or "damn." Or that The Walking Dead was already a thing back then. Or playing billiard, for that matter.
Not to mention horrible faux pas like this one:
"One of my bitches gave birth to a litter of mongrels."
I know that bitches are female dogs, however, at this coming out of Dorian's mouth, the manwhore asshat, I fell out of my seat and snorted like a maniac. Maas does realize her mistake and attempts to turn it into a joke as well, so I don't even feel guilty for laughing so hard at this. It's just, it's like some guy in our time is speaking here. At least until the giving birth to anything part... Other authors managed to create a believable medieval atmosphere with appropriate dialogue before Maas, so why doesn't she?
Oh, and plot! Plot! What plot! Ooohh, that competition you mean? Well, we don't ever really get much of what they're doing there beyond the first few days. She's just training. And doing some tests, like climbing a wall, or tasting poisons and stuff like that. While I appreciated the Test scenes, they were few and far between, and the training was as boring as everything else that happened. What about those mysterious murders, you ask? Oh, but Celaena doesn't care about that. In fact, she has determined right from the start that she can't do anything about that anyways, and she would maybe try to look into those murders after she won the competition. Because, for now, she had to focus on that. On the competition. Which was basically nothing. Just her exercising for apparently half the day and then chilling in bed reading. Pretty much what I have been doing the past couple of days of my Fall vacation too (yeah okay maybe I only spent an hour on exercise and not half the day but still), and I know for certain that I would have had time to squeeze in a bit of murder investigation to help prevent friends and colleagues or hell, even myself, from getting killed. Just, great job you've done there, Celaena. You deserve a pat on the back.
In conclusion, I seriously cannot even with this novel. Most of the reviews that I have read and that didn't love the novel like me said that at least the book held their attention and kept them entertained, but it didn't even do that for me. In fact, I got so bored and tired I only skimmed the last hundred pages, and I'm not even sorry. I am only endlessly relieved to be done with this mess. Good riddance.