The Night Circus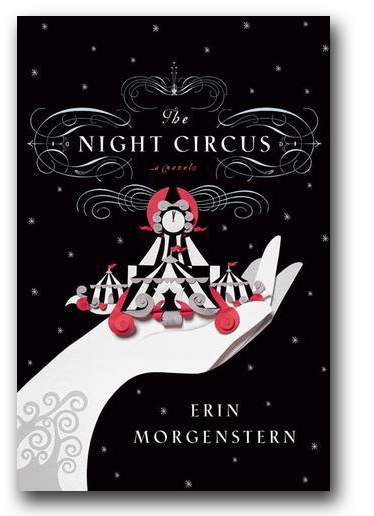 Release: September 13th 2011
Genre: Fantasy, Historical, Magic, YA
Plot:
The circus arrives without warning. No announcements precede it. It is simply there, when yesterday it was not. Within the black-and-white striped canvas tents is an utterly unique experience full of breathtaking amazements. It is called Le Cirque des Rêves, and it is only open at night.
But behind the scenes, a fierce competition is underway—a duel between two young magicians, Celia and Marco, who have been trained since childhood expressly for this purpose by their mercurial instructors. Unbeknownst to them, this is a game in which only one can be left standing, and the circus is but the stage for a remarkable battle of imagination and will. Despite themselves, however, Celia and Marco tumble headfirst into love—a deep, magical love that makes the lights flicker and the room grow warm whenever they so much as brush hands.
True love or not, the game must play out, and the fates of everyone involved, from the cast of extraordinary circus per­formers to the patrons, hang in the balance, suspended as precariously as the daring acrobats overhead.
Review:
This book is magic. Pure, simple magic. It will charm the pants right off of you.
I did not expect to like it this much. I had heard from many people before that this book was really good, but I simply thought it wasn't my cup of tea exactly and that it'd be nice enough, but nothing outstanding. Boy, was I wrong...
I'll start with writing, because it is probably the most dazzling feature The Night Circus has going for it. I've known prior to beginning the book that it would be 3rd person present tense, which is really peculiar and curious, so while I was prepared for having to adjust to weird writing, that was not the case. Rather, it was a smooth transition and felt not out of place at all. I daresay even that it was really amazing and absolutely wonderfully executed, I think this could have gone wrong really quickly, but Morgenstern mastered it perfectly. Then there's the matter of her beautiful, artful writing style that I just adored. It's not as heavy as, say, Laini Taylor's, which is the one I'd compare it most to, but a bit more subdued. However, still exactly as magical and powerful. I'll attach one scene that I especially liked to the end of the review, because that scene made me ache for the circus and feel everything.
That being said, Morgenstern amazed me with how well she was able to portray everything she wanted to show me. The images were as vivid as if I had seen it all in person and I could picture every setting, every place, in clear detail. Her descriptions came to life in my mind and her words breathed life into everything she told. Wooow.
Then we have our characters, which were all, all, so very relatable and realistic. Even characters that appear only once, like Bailey's grandmother, have a life of their own and stand out in their own individual ways. I cared about every single one of them, and they all had their own internal struggles which made them feel very solid. Morgenstern clearly knows how to characterize correctly. So, needless to say, I fell in love with our two protagonists, Celia and Marco. Because seriously, how can you not? They were amazing. So, so amazing.
And what I liked best is that most of their personalities developed outside of their relationship. They grew stronger and wiser without needing the other to hold onto, at least most times not fully. Plus, the romance didn't even begin to really spark up until page 200 something, so well into the halftime mark! And even then, it takes on a leisurely pace, not too slow and not too fast and you can follow Celia and Marco falling in love with each other which was really sweet and harmonic.
All in all, I cannot explain how much I enjoyed this novel in a satisfactory fashion, because I am simply at a loss for words. Besides, I'm not sure there are even words that suffice to properly describe the magnificence that is The Night Circus.
And now, as promised, a short excerpt that absolutely took my breath away:
"The sign outside this tent is accompanied by a small box full of smooth black stones. The text instructs you to take one with you as you enter.
Inside, the tent is dark, the ceiling covered with open black umbrellas, the curving handles hanging down like icicles.
In the center of the room there is a pool. A pond enclosed within a black stone wall that is surrounded by white gravel.
The air carries the salty tinge of the ocean.
You walk over to the edge to look inside. The gravel crunches beneath your feet.
It is shallow, but it is glowing. A shimmering, shifting light cascades up through the surface of the water. A soft radiance, enough to illuminate the pool and stones that sit at the bottom. Hundreds of stones, each identical to the one you hold in your hand. The light beneath filters through the spaces between the stones.
Reflections ripple around the room, making it appear as though the entire tent is underwater.
You sit on the wall, turning your black stone over in your fingers.
The stillness of the tent becomes a quiet melancholy.
Memories begin to creep forward from hidden corners of your mind. Passing disappointments. Lost chances and lost causes. Heartbreaks and pain and desolate, horrible loneliness.
Sorrows you thought long forgotten mingle with still-fresh wounds.
The stone feels heavier in your hand.
When you drop it in the pool to join the rest of the stones, you feel lighter. As though you have released something more than a smooth polished piece of rock."