Slasher Girls and Monster Boys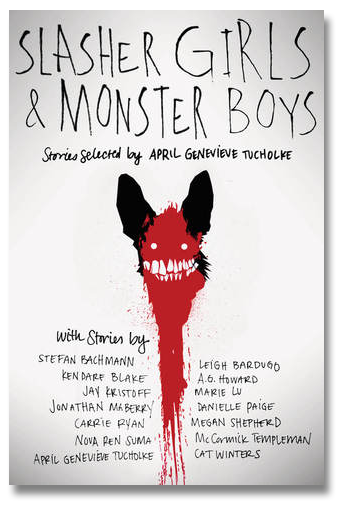 Authors: Stefan Bachmann, Leigh Bardugo, Kendare Blake, A. G. Howard, Jay Kristoff, Marie Lu, Jonathan Maberry, Danielle Paige, Carrie Ryan, Megan Shepherd, Nova Ren Suma, McCormick Templeman, April Genevieve Tucholke, Cat Winters
Release: August 18th 2015
Genre: Anthologies, Horror, Thriller, YA
Plot:
A host of the smartest young adult authors come together in this collection of scary stories and psychological thrillers curated by Between the Devil and the Deep Blue Sea's April Genevieve Tucholke.
Each story draws from a classic tale or two—sometimes of the horror genre, sometimes not—to inspire something new and fresh and terrifying. There are no superficial scares here; these are stories that will make you think even as they keep you on the edge of your seat. From bloody horror to supernatural creatures to unsettling, all-too-possible realism, this collection has something for any reader looking for a thrill.
Review:
I am really, truly disappointed, and woefully underwhelmed. This was sold to me as a collection of horror short stories by renowned YA authors, yet, having finished this, I am seriously questioning whether 50% of these authors even know what horror is, or if they have ever read a true horror novel. Or watched a horror movie, even. Because almost none of these ever came close to being truly horrific or terrifying, and also it seems like half of these authors seem to think that horror equals abuse. Hell fucking no. What the fuck?
Yes/No indicates whether I have read something by that author before or not.
The Birds of Azalea Street by Nova Ren Suma
No
And here we have our first fine example of how the author seems to think that writing about abuse, especially targeting young women in that abuse, is a good way to write a horror story. Let me tell you, Nova Ren Suma, it is not. No way. I did not like this story, because aside from that, it was also pretty fucking boring and the writing was lame.
In the Forest Dark and Deep by Carrie Ryan
Yes
I really like
Alice in Wonderland
, it's my favorite children's classic, and so I kind of dig this story. It's weird in a way, but it was truly creepy and made me shudder inwardly. So, Carrie Ryan was one of the few authors who got the job done.
Yes
Predictably, so did Cat Winters. But then again, I really did not expect any less of her. Her story seems really innocent and mild at first, but if you really think about it, it's truly horrible. And I just absolutely love her writing, the way she wrote this short story was simply perfect for creating a fitting atmosphere for it.
Verse Chorus Verse by Leigh Bardugo
Yes
Again, I am a little disappointed. This was not really very horrifying at all, it seems like Bardugo simply took some horror movie clichés and put them all together in a very unsatisfying and unpleasing manner. Such a shame.
Hide-And-Seek by Megan Shepherd
Yes
I loved the premise. It was very unique and unheard of, but the execution left a lot to be desired. Maybe it was simply too short in the span of the time told, because in the story itself, every single second counts so it seems important to me as the reader to get a full coverage of every single second that passes. But I didn't get that, so in a way, this story fell flat. But, as I said, I loved the concept, and it wasn't based around abuse, so it wasn't a failure in that respect!
The Dark, Scary Parts and All by Danielle Paige
Yes
No. Just ... no. I am sorry, but this wasn't horrible at all. The "plot twist" was predictable as fuck and the general idea isn't very original either.
The Flicker, The Fingers, The Beat, The Sigh by April Genevieve Tucholke
Yes
It was interesting, to say the least. And the way it was written was extremely touching and intriguing, but ... I can't see the horror elements for the life of me. Apart from when they were sharing old, already well-known horror tales in the car at the beginning of the short story, there was nothing truly terrifying about this. And that even though Tucholke is the horror author here.
Fat Girl with a Knife by Jonathan Maberry
No
I really, really didn't like the fact that Dahlia's weight played such a huge role here. I mean, I get it, I get where this author's coming from, but after mentioning it for the millionth time, it's just enough at some point; and I don't like characters who are based around one thing completely. Don't give me a character who is just queer and whose personality traits are based all around the fact that they're queer, similarly, I do not want just a fat person and sadly, the way Maberry wrote Dahlia, it seemed that her weight was everything characterizing her and that was that.
Sleepless by Jay Kristoff
Yes
Man, that was a fucking twist. I love short stories that actually end with a bang, and this one finally delivered. At first, I thought it was going to be yet another boring cliché story, but it turned out much more badass than that. Yes!
No
Again, a very interesting story, and this time, I also liked the execution of it. However, not very horrible or awful at all, this was more of a crime story than a horror story.
The Girl Without A Face by Marie Lu
Yes
I don't know, I feel like, objectively speaking, this was not a bad story at all, but for some reason, I just didn't connect with it, it didn't speak to me. Also, it felt very random and clichéd.
A Girl who Dreamed of Snow by McCormick Templeman
No
Kind of loosely based around the same concept as Kristoff's short story, but not half as satisfying as his was. For some reason, there was simply something missing— oh yeah, right, the horror elements. Sigh.
Yes
Finally! Thank God! One of the other few stories that were
actually
horrifying and creepy and awful! It wasn't the most original story ever, there's definitely some
Frankenstein
inspiration going on there, but it was simply such a refreshing read and I loved the narrative and the way it was written.
On the I-5 by Kendare Blake
Yes
I thought Kendare Blake, of all people, would completely overwhelm me with a perfect little horror story, like, she'd be the grand finale because she really knows where it's at. However, I was sorely mistaken as well as sorely let down. Hers is also more of the thriller/crime genre than horror, which is really sad because I know Blake can write horror like nobody's business. Anyway, this took another direction like Kristoff and Templeman's, but it was even less satisfying. Maybe because the novelty lessened over time, with this being the 3rd short story that was written in a similar vein, but there was also something so ... hipster about it. It was something so out of the ordinary, that I'm sure it was meant to shock with its ordinary-ness, but instead, it just ended up being boring.