Unmade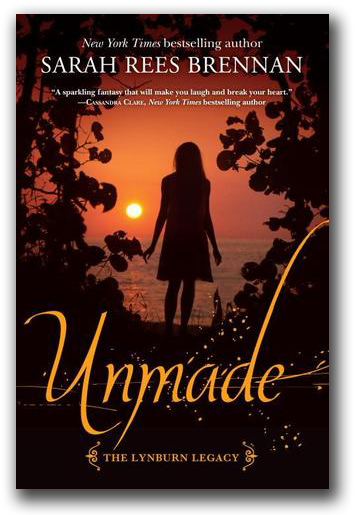 Author: Sarah Rees Brennan
Release: September 24th 2014
Genre: Urban Fantasy, Magic; YA
#3 in the Lynburn Legacy trilogy
Plot:
Powerful love comes with a price. Who will be the sacrifice?
Kami has lost the boy she loves, is tied to a boy she does not, and faces an enemy more powerful than ever before. With Jared missing for months and presumed dead, Kami must rely on her new magical link with Ash for the strength to face the evil spreading through her town.
Rob Lynburn is now the master of Sorry-in-the-Vale, and he demands a death. Kami will use every tool at her disposal to stop him. Together with Rusty, Angela, and Holly, she uncovers a secret that might be the key to saving the town. But with knowledge comes responsibility—and a painful choice. A choice that will risk not only Kami's life, but also the lives of those she loves most.
This final book in the Lynburn Legacy is a wild, entertaining ride from beginning to shocking end.
Review:
I really loved this one, and I thought it was a good finale, however, I do have some issues.
One of them is how neatly it ties up in the romance department, especially with it being overly dramatic and more complicated than it needs to be, for it to just end up so nicely and conveniently. Jared and Kami have multiple scenes where they say they can't work out and sort of "break up" (but, surprise surprise, they actually do end up together) and Angela is constantly pushing Holly away as well, so that it was really hard to believe that just suddenly, at the very end, she didn't anymore and she behaved so un-Angela-like that I'm not buying it.
Also, the fact that the end climax, the actual battle against Rob was maybe 10 or 20 pages and he disappeared so easily, there was no real 1 on 1 battle between Rob and either Kami or Lillian, or anything, really. It was just like one second he was there and the next poof, he's vanquished and victory is the heroes'. I was expecting something like at the end of Harry Potter, but nope. It was all very underwhelming and I'm sure there's some philosophical metaphor in the fact that he vanished with so little fanfare, but it just made all the hard work and all the deaths up until then seem so ... not worth it all.
Still, I am very pleased with the end I got and
Unmade
was a great novel in and of itself, save for those few issues I had. The characters are simply fantastic, all of them being extremely interesting, and fully fleshed out. The relationships especially are what make this book, though, I honestly can't fangirl enough about how heartfelt and raw they are. Even Kami and Jared's relationship, however frustrating it might be sometimes because it's simply a lack of communication between them, is one that I enjoyed to the max and I really, really ship them. Lots. But even more amazing than the romantic relationships are the familial relationships as well as the friendships. The Lynburn's feelings' development, especially for each other, was absolutely great. I loved seeing Jared and Ash form a brotherly relationship, but also the Glass' bonds were so emotional. Furthermore, did I mention how unique and diverse and
complex
these characters are? Everyone carries their ghosts around with them and it's delved into and developed so skillfully. Ugh, I loved seeing how they dealt with their issues and such. This book just gave me literally all of the feels, it made me smile and grin and laugh, but it also managed to make me sob my eyeballs out (a rarity), feel a sinking feeling in my chest and genuinely feel sad. And I loved it.
In conclusion ... I do think some of the plot points were a little rushed and I definitely wouldn't have minded for the book to be 50-100 pages longer if those had been neatly tied up as well in turn, but it wasn't too much of a problem. In the end, a very successful third book and I'm really glad I ended up liking the series so much after all, seeing as me and the first book in the trilogy didn't really hit it off. What a lovely three books, I can definitely recommend them to everyone.