The Raven King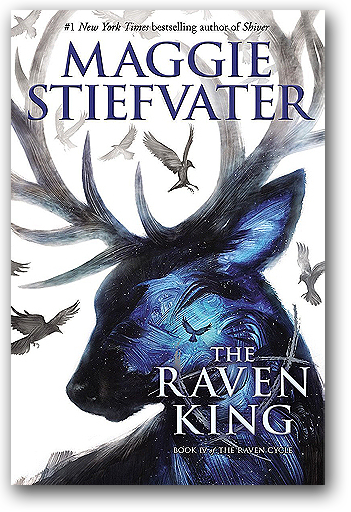 Author: Maggie Stiefvater
Genre: Supernatural, Urban Fantasy, YA
#4 in the Raven Cycle quartet
Plot:
The fourth and final installment in the spellbinding series from the irrepressible, #1 New York Times bestselling author Maggie Stiefvater.
All her life, Blue has been warned that she will cause her true love's death. She doesn't believe in true love and never thought this would be a problem, but as her life becomes caught up in the strange and sinister world of the Raven Boys, she's not so sure anymore.
Review:
Whew. Where do I even begin? Where do I start to
try
and formulate words for this novel, words that will be found wanting, deeply wanting. Because there simply
are
no words to describe this last finale of the magnificence that is The Raven Cycle.
(Also, no spoilers in this review, by the way.)
The parallels of the writing are obvious, they are glaring at you and weave a web of this story, they connect and bridge the gaps, this is indeed the final and last puzzle piece of the whole series. Everything becomes much clearer and it all comes into focus. And I loved that part of it, the realization where every single action and thought and feeling previously experienced came together and formed this.
The writing is astounding, beautiful and most of all, haunting. It makes you ache deep inside and fills you with wonders and stars and just— I literally can't describe it. But then, I don't have to, because it's been this way since the very first sentence of the very first book. Stiefvater's writing is powerful and evocative and atmospheric.
The characters' layers are pulled back and back and back until there is nothing left but all of them and their vulnerabilities laid bare, naked before you, the reader. I have never loved these kids more than I do at this moment and that's saying something because for the better part of four years I have carried them with me in the inside pocket of my heart at all times.
At the end of the day, this series ends with melancholy, heartache and nostalgia. I don't want to be one of those YouTube comments that are like "first!" but then I really want to stress for how long and how deeply this series has been a part of me, and been important to me. I read
The Raven Boys
a few months after it first came out, when I was fourteen? Fifteen? I am almost nineteen now. These past years have been significant in shaping me as a person, in discovering who I am, more so than my childhood or any years before could have ever been. What I am saying is that these books not only accompanied me into adulthood, they also helped me grow into it. Which sounds silly if you put it that way, but really, it's just the way I feel about it. It has been my favorite book series ever since then, when before I'd long had trouble pinpointing it to just
one
. Now I always have the answer ready and I doubt it will change much even as I let go of these novels. Which is probably the worst, most bittersweet part. Because I do. I have to. Let go of them. They're over now, and we're not coming back to these kids' stories, but you know what? As much as it also pains me to say this, but I'm happy with the ending I got. There are books which end so horribly that you can't move on from them, but I can go on knowing where these characters are headed, with a vague idea of what they might be doing and that's enough, I guess. I say this even though the thought of not being able to wait for the next book, get my next fix kind of kills me inside, but there it is.
And that's all there is.