Ten Thousand Skies Above You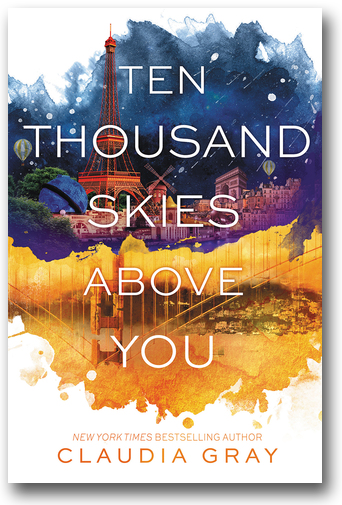 Release: November 3rd 2015
Genre: Science Fiction, YA
#2 in the Firebird trilogy
Plot:
Ever since she used the Firebird, her parents' invention, to cross into alternate dimensions, Marguerite has caught the attention of enemies who will do anything to force her into helping them dominate the multiverse—even hurting the people she loves. She resists until her boyfriend, Paul, is attacked and his consciousness scattered across multiple dimensions.
Marguerite has no choice but to search for each splinter of Paul's soul. The hunt sends her racing through a war-torn San Francisco, the criminal underworld of New York City, and a glittering Paris where another Marguerite hides a shocking secret. Each world brings Marguerite one step closer to rescuing Paul. But with each trial she faces, she begins to question the destiny she thought they shared.
The second book in the Firebird trilogy, Ten Thousand Skies Above You features Claudia Gray's lush, romantic language and smart, exciting action, and will have readers clamoring for the next book.
Review:
"Ten thousand skies, and a million worlds, and it still wouldn't be enough for me to share with you. Nothing less than forever will do."
I don't know whether it's because I myself am currently madly in love with a happy relationship or whatever, but for some reason, I could really, really relate to all the sappy, romantic stuff Marguerite says throughout the novel. However, objectively, I can see how it might come across as a bit pushy and, most of all, annoying.
Nevertheless, I think that the mushy sap doesn't take away from the pace of the novel, which was really well chosen. Gray walks the perfect line between hopping from world to world, we spend enough time in each universe to get a grasp of it, get an impression and form an opinion, but not enough for it to get boring or too tedious, as the case may have been with the Russiaverse in the first novel.
What I also extremely liked about the novel was the exploration of all the moral implications this dimension travelling carries with it, and the resulting responsibilities. Marguerite realizes that she has impacted other Marguerites in fundamental ways, only because she has taken over their body for a short period in time, which is not okay. Thus, I also loved her character development and the conclusions she draws towards the end, both about multiverse travel and destiny, which was a huge part of the book as well.
The relationships and character dynamics are so-so, we get a more in-depth look at her relationship with Theo, which I feared at first would be the point where we do delve into a possible romantic connection between them, as is often the way middle books go when there is a love triangle involved, and even if the novel in a way did go there, it also didn't. Like, there is one universe where Marguerite apparently chose Theo over Paul, and it's an issue she deals with both on her own and by talking it over with her own Theo; telling him about her feelings in a mature way while still being respectful and maintaining, and even deepening, the platonic bond she has with him in the process.
There's also a lot of action going on, especially the end really gets the ball rolling and the book ends on a huge cliffhanger that makes me want to have the third installment right away. I'm definitely signed up for it.