The Conspiracy of Us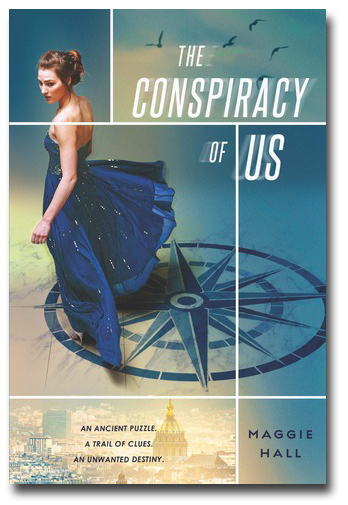 Release: January 13th 2015
Genre: Contemporary, Mystery, YA
#1 in the Conspiracy of Us trilogy
Plot:
A fast-paced international escapade, laced with adrenaline, glamour, and romance--perfect for fans of Ally Carter
Avery West's newfound family can shut down Prada when they want to shop in peace, and can just as easily order a bombing when they want to start a war. Part of a powerful and dangerous secret society called the Circle, they believe Avery is the key to an ancient prophecy. Some want to use her as a pawn. Some want her dead.
To unravel the mystery putting her life in danger, Avery must follow a trail of clues from the monuments of Paris to the back alleys of Istanbul with two boys who work for the Circle—beautiful, volatile Stellan and mysterious, magnetic Jack. But as the clues expose a stunning conspiracy that might plunge the world into World War 3, she discovers that both boys are hiding secrets of their own. Now she will have to choose not only between freedom and family--but between the boy who might help her save the world, and the one she's falling in love with.
Review:
I am a little mad, because there were a handful of things just seriously, flat out wrong about this book, especially in the beginning, but in the end, it was so much fun to read. Why did Hall have to incorporate those unnecessary flaws and not let me have enjoyed it to the fullest? Ugh.
Honestly, the beginning was awful, horrible, terrible, there is no other way to describe it. Hints of insta-love at first sight, cringe-worthy dialogue, a girl that flies to Paris on a whim with two boys she doesn't even know at all, one of which even threatened her with a knife not two minutes ago, even though her mom told her not even to leave the house, ... Everything rubbed me the wrong way about this. There is literally nothing I could even say one good thing about, even just writing this paragraph makes me so angry with this exposition, you don't even know. I was this close to just dropping the book because that scenario was simply unrealistic as fuck, irresponsible, dumb, stupid, silly, not to mention fucking idiotic. Seriously what the hell. Not even toska could justify messed up shit like that.
However. After that god awful beginning, this book does start to get much better later on. The plot was intriguing and interesting, and I want to say at least a little unique. But maybe that's just my personal opinion, because honestly I love stories about different secret families, or houses, or whatever have you, existing underneath the real world with major influences on everything else happening all around the globe. But also the little wild goose chase across Istanbul and Paris was very nice to follow and cleverly done, as well as executed quite well.
As for the characters, well. I still have my doubts about them, especially about the heroine Avery's intelligence, but at least I didn't end up hating or disliking any of them. In fact, I even came around to really appreciating the romance between Jack and Avery. Even though my head kept telling me that they've known, really known each other for, like, two days, it just didn't feel like that because of the way the story is written. And even though their relationship was indeed really cheesy and I honestly should not have liked them, I ultimately did.
All in all, I'm looking forward to the sequel, especially after that thrilling end climax and cliffhanger, but I am still really irritated that this novel starts off so horrendously. I'm so very tempted to retract a star because of it.