These Broken Stars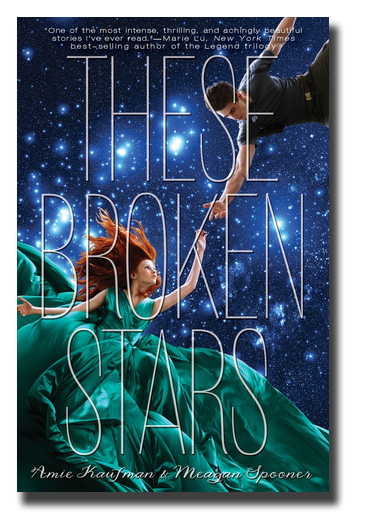 Authors: Amie Kaufman & Meagan Spooner
Release: December 10th 2013
Genre: Science Fiction, Fantasy, YA
#1 in the Starbound trilogy
Plot:
It's a night like any other on board the Icarus. Then, catastrophe strikes: the massive luxury spaceliner is yanked out of hyperspace and plummets into the nearest planet. Lilac LaRoux and Tarver Merendsen survive. And they seem to be alone.
Lilac is the daughter of the richest man in the universe. Tarver comes from nothing, a young war hero who learned long ago that girls like Lilac are more trouble than they're worth. But with only each other to rely on, Lilac and Tarver must work together, making a tortuous journey across the eerie, deserted terrain to seek help.
Then, against all odds, Lilac and Tarver find a strange blessing in the tragedy that has thrown them into each other's arms. Without the hope of a future together in their own world, they begin to wonder—would they be better off staying here forever?
Everything changes when they uncover the truth behind the chilling whispers that haunt their every step. Lilac and Tarver may find a way off this planet. But they won't be the same people who landed on it.
Review

:

This book just blew my mind. I think this review is going to be an incoherent mess of words strung messily together because I think I need a bit of time to order my thoughts, but then again, I'm dying to just spill what I felt about this.




These Broken Stars was a book that I stumbled across in, I think, July or August, and I thought "Hm, that sounds nice, I'll buy it," before I noticed that it wasn't even released yet. So, much like Control, I kept a close eye on it, determined to buy it as soon as it's published. However, when that day came around, it was quite expensive so I bode my time until its prize was reasonable. As soon as it was, I went ahead and bought it right away, and I was surprised to find that I was really looking forward to finally getting to read it, especially since a lot of other people had read and given stellar ratings by then. I was dying to see if it was as good as everyone says and — it is. Really is.




I went into this and I immediately liked it. I was grinning because I thought to myself, "Yes. This is going to be so good." Not 50 pages in and I was enjoying it immensely, and the book just held me in its clutches and wouldn't let go. By 5am, I was able to disentangle myself a bit from it and get a little sleep, but as soon as I woke I grabbed the book and stuck my nose in it again. It has a hypnotizing quality that screams "READ ME OR I'LL MURDER EVERYTHING YOU HOLD DEAR."




Well, I could now point out how and why the characters were fantastic, but I think I'll just say this: I fell in love with them so hard, I love them so much it is breaking my heart that this is the end of Tarver and Lilac's story. I want to know what happens next, are they going to stay together or...? I want to spend more time with them and I REALLY love them. This case of No-I-don't-want-to-let-go-ever is as bad as with The Coldest Girl in Coldtown.




And it's suffice to say that the plot was extremely intriguing and interesting, at least for me. I can imagine that it would throw a lot of people off, since adventure treks aren't everyone's thing, but I extremely enjoyed the whole thing. Maybe because it reminded me a bit of Under The Never Sky and brought up a bit of nostalgia, but I enjoyed myself so much during the novel. Plus, there were a couple of plot twists that simply blew my mind, which further adds to the amazingness that is this book. It was all a bit overwhelming and I did have the urge to close the book and take a short break to take it all in, but I just... couldn't. I couldn't. I powered through the 374 pages of this so hard and my only regret is that now I'm standing here, having come to the end and I don't know what to do anymore.




And then there's the romance. I think this is actually the most perfect thing about this book, because it was so sweetly slow and leisurely, taking the time to really develop and for the relationship to blossom into a healthy, good one. Tarver and Lilac crept up on each other and they are still their independent persons while also managing to make me ship them so hard I was shouting at them to just KISS ALREADY more than once. I wholeheartedly approve of them.




Writing was very lovely as well, I just love it when authors use the titles of their novels in the last sentence of it, wrapping it up so nicely and wistfully, it's so adorably bittersweet. Like I said, I wish the next books were still about Tarver and Lilac instead of others. The alternating POV chapters between the two were also well done, because I was never confused as to whose chapter I was reading, I could always distinguish them from another.




I will definitely read the companion novels, even if I do so with a heavy heart full of nostalgia for Tarver and Lilac, but we'll see, maybe I'll actually end up liking that one even better. Which should be impossible, but hell, anything could be possible with this series. I am definitely going to check out the authors' other works.