World After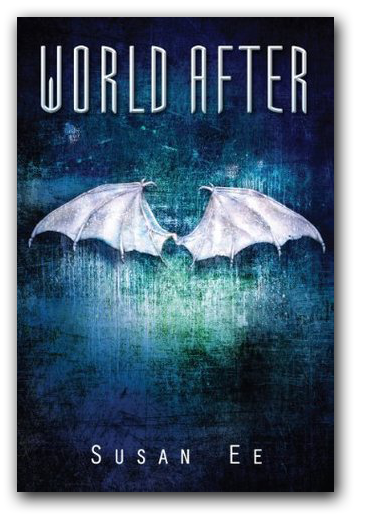 Release: November 19th 2013
Genre: Angels, Supernatural, Post-Apocalypse, YA
#2 in the Penryn & The End of Days trilogy
Plot:
In this sequel to the bestselling fantasy thriller, Angelfall, the survivors of the angel apocalypse begin to scrape back together what's left of the modern world.
When a group of people capture Penryn's sister Paige, thinking she's a monster, the situation ends in a massacre. Paige disappears. Humans are terrified. Mom is heartbroken.
Penryn drives through the streets of San Francisco looking for Paige. Why are the streets so empty? Where is everybody? Her search leads her into the heart of the angels' secret plans where she catches a glimpse of their motivations, and learns the horrifying extent to which the angels are willing to go.
Meanwhile, Raffe hunts for his wings. Without them, he can't rejoin the angels, can't take his rightful place as one of their leaders. When faced with recapturing his wings or helping Penryn survive, which will he choose?
Review:
Duuude. DUDE. I cannot express adequately how epic this was. I am utterly speechless, and it's really amazing that Susan Ee managed to accomplish this twice. I can tell you now that I am already awaiting the next book with baited breath.
Well, where do I start? I think we'll start off with characters. That's also where my only complaint comes up, which is that Raffe doesn't get so much screen time in this sequel. On the one hand, I guess that's not so bad because it allowed for Penryn, her mother and Paige to develop way more, but then again, I really really missed him throughout the book. He does make a few appearances before the two officially reconciliate, but I think that was just more teasing and mean. However, when we do finally get Raffe back, he's as great as ever. I don't think he developed that much in this second installment, but after all the progress he's made in Angelfall, I'm not so worried.
Penryn's mom is such a strong and kickass woman I am ready to bow down and swear my fealty to her. There is one scene, though, where she's locked up with Penryn and she does something really atrocious which kind of stained the high opinion I had of her, but she's still fairly cool. I liked how menacing she was even while being unarmed — this woman has an aura. And Paige! Wow, I am really in awe how daring Ee was, really. She made her seem like a monster, but we still get to know so much about her character and personality, it's amazing how you can so torn up about a character. Am I to be repulsed by her? Pity her? I didn't know until that very last scene, and god, it was so brilliantly done. Horrifying, of course, but brilliant.
But, naturally, the star of the show is obviously Penryn. This girl is such a bamf, such a fierce, badass, independent woman I think I am in love. Not only that, but she is funny too and I love her narrative. It's so laid-back and down-to-earth, despite all the crap she's been through and while she fully recognized how the world has gone to ashes, she's still trying to stay relatively optimistic and do her best. I loved that determination to just carry on, no matter what, because it was so inspiring. Aaaand, she's also smart! She realizes that the chances of being able to save everyone are slim, but still figures out how to try with minimal risk to herself and pulls it off. Her internal struggles about her new monster sister were also a good reflection of the reader's reaction to her (or, well, mine), so I thought that added a great depth and relatability to Penryn's character.
Plot was simply overwhelming, while also leaving me hanging and wishing there were more pages. So much is going on there is barely a second to catch your breath. And even though there are lots of short chapters, they are never inviting to just close the book and catch your breath, because you just have to know what happens next. I swear, after a little time the new chapter beginnings didn't even register because I just marched on and read and read, being oblivious to anything other than World After.
The prose was pragmatic and down to the point, with a few sprinkles of Penryn's great humor here and there, which evened out the otherwise bleak and violent atmosphere and events of the book very well. The present did throw me off once or twice, so it wasn't as adaptable as in other novels such as Divergent, but I think present tense adds a great sense of urgency to the book, aiding in gluing the reader's eyes to the pages.
All in all, an enormously successful sequel, skillfully told and wonderfully done, with amazing and extremely likeable characters, a great story and plot and overall an awesome reading experience you don't want to miss out on. Seriously, read these books now. And, I'll say it again, I want the next book RIGHT THIS INSTANT PLEASE.